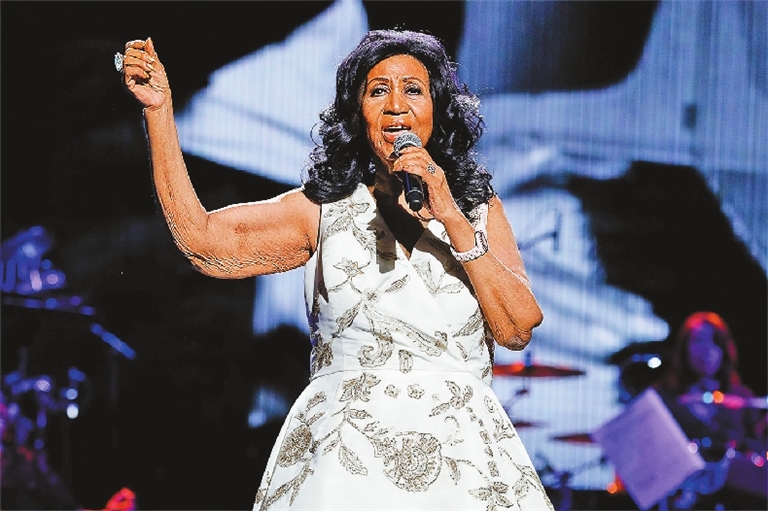 ARETHA FRANKLIN, the Queen of Soul, died Thursday morning at her home in Detroit after a long battle with cancer, her family said in a statement. She was 76 years old.
The family said Franklin died from advanced pancreatic cancer of the neuroendocrine type. The cause of death was confirmed by Franklin's oncologist, according to the statement.
Franklin's body will go on public display during a four-day celebration of her life in her hometown of Detroit.
Authorities are drawing up plans for a musical tribute featuring major performers as a fitting sendoff for the legendary soul singer.
Her funeral has been scheduled for Aug. 31 following a two-day public viewing of her open casket, relatives said.
Her body will lie in state for public viewing at the city's Charles H. Wright Museum of African American History on Aug. 28 and 29.
She will be laid to rest at the city's Woodlawn Cemetery following a service for family, friends and invited guests at the nearby Greater Grace Temple. Musicians and other high-profile figures from around the world are expected to attend her funeral.
Tributes have flooded in from stars including Dolly Parton, Ariana Grande, Mariah Carey, Sir Elton John, Diana Ross and Oprah Winfrey.
The MTV Video Music Awards, which take place in New York City today, will feature a special tribute to Franklin.
On Twitter, U.S. President Trump called Franklin's voice "a wonderful gift from God."
In a statement, former President Obama and former first lady Michelle Obama said every time Franklin sang "we were all graced with a glimpse of the divine."
Franklin's prolific career spanned six decades and included hit songs like "Respect," "A Natural Woman" and "I Say a Little Prayer." Even in her 70s, she was still performing. Her last known performance was in November, for Elton John's AIDS Foundation Fall Gala.
Franklin, whose father was a Baptist preacher, was born in Memphis but grew up in Detroit, where she began singing in the church choir at an early age. By many accounts, the young prodigy learned to play piano by ear. By the age of 14, with her father's encouragement, Franklin started making records. Her early music blended gospel and jazz. By 1961, she made the transition into pop; between 1961 and 1969, she recorded 10 albums with Columbia Records.
The singer's career took off when she recorded her 1967 hit "Respect," which won two Grammy Awards. The song was off her first platinum album, "I Never Loved a Man the Way I Love You." She would go on to win 18 Grammy Awards in total and perform at three presidential inaugurations. Franklin was also the first woman to be inducted into the Rock & Roll Hall of Fame.
(SD-Agencies)