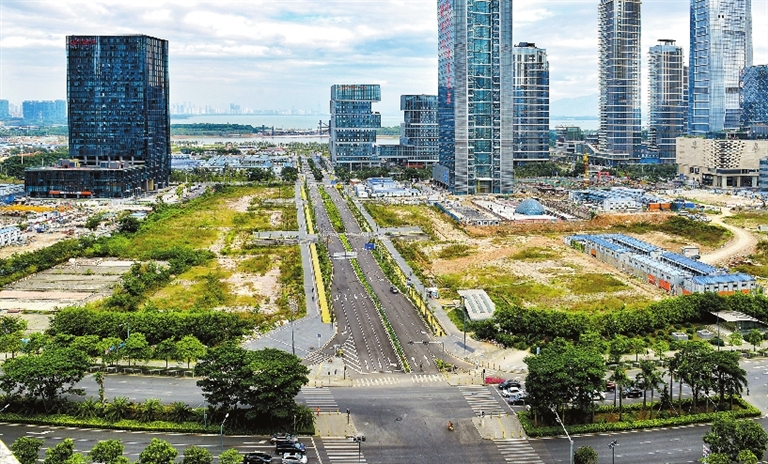 THE city's first permeable road has been put into use recently in Nanshan CBD.
A 1.2-km section of Dengliang Road between Houhaibin Road in the west and Haide No. 3 Road in the east has been built into a permeable road. It passes through Central Park Road, Keyuan Boulevard, Chuangye Road, Haide No. 1 Road and Haide No. 2 Road.
The road looks no different than other urban roads, but its secret lies in the permeable surface and roadside rainwater gardens.
According to Shenzhen Muni-cipal Public Works Bureau, which was behind the construction of the permeable road, a concrete surface was paved over layers of pebbles and soil to allow fluids like rainwater to pass through freely.
The rainwater that filters through the permeable surface will flow to the roadside greenery belt, where plants that naturally collect and filter rainwater have been planted.
The roadside greenery belts are part of the rainwater gardens, which feature grasses, bushes and silkwoods that can absorb and reserve rainwater. The water is allowed to seep into the soil to replenish the groundwater.
In heavy rain, when the rainwater gardens can't absorb all of the water, the excessive water will run into the city's water drainage system.
The permeable road can reduce flood risks and avoid wasting rainwater, according to the bureau. Along the road, 18,450 sqm of rainwater gardens have been built.
The permeable road was designed with a capacity to handle 387 millimeters of rainfall per day, which happens once every 25 years in the city.
The bureau is undertaking 25 projects under the Sponge City program, including 14 construction projects, four park projects and four urban road projects.
Shenzhen was chosen by the Central Government as one of the 16 cities to pilot the national Sponge City program in 2016.
The city government has laid out a plan to carry out 150 renovation projects to upgrade existing facilities to meet the requirements of a sponge city.
Shenzhen's Sponge City will be able to collect and reuse 70 percent of rainwater. According to the city's plan, over 20 percent of the urban areas in Shenzhen will be part of the Sponge City by 2020, and 80 percent of urban areas will reach the goal by 2030. (Han Ximin)