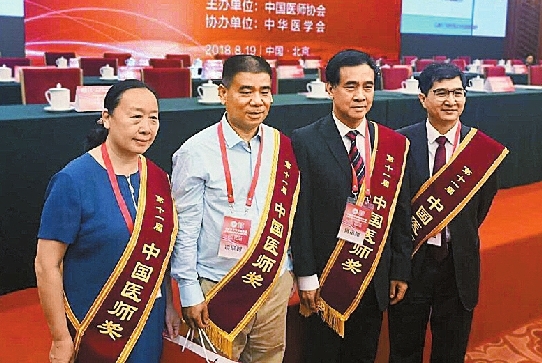 HE YULONG from the Shenzhen-based Seventh Affiliated Hospital of Sun Yat-sen University and Wu Ruifang from Peking University Shenzhen Hospital were awarded the Chinese Physician Prize on Sunday, as the day marked China's first Medical Workers' Day, the Shenzhen Special Zone Daily reported yesterday.
A total of 80 outstanding doctors from across the country were honored. The award ceremony was held at the Great Hall of the People in Beijing on Sunday morning.
He has been a doctor for more than 30 years. With perseverance and consistency, he led his team to reach an internationally leading position in the field of gastrointestinal cancer diagnosis and treatment, and has raised the five-year survival rate of gastric cancer patients who undergo radical gastrectomy to 61.4 percent.
He persists in visiting the ward at least twice a day to check on the condition of his patients and carefully inquire about any changes to their health. He also keeps in mind what a patient eats.
When the weather is cold, he warms his hands before touching the patient's body. After each examination, he tucks the patient in. In more than 30 years, He has never received a complaint from a patient.
Additionally, he fully prepares for each operation and strives for perfection in every hand movement. As a professor, He is also admired by many teachers and students for his medical ethics and skills.
Wu Ruifang is a professor and a doctoral supervisor at Peking University and director of the obstetrics and gynecology center at Peking University Shenzhen Hospital. She has been working in clinical application and research, as well as teaching in the field, for 36 years.
Since 2007, she has collaborated with the Cleveland Clinic and Prevention Oncology International to complete a number of large-scale population-based cervical cancer prevention and treatment projects. The research results have had a major impact on the international community.
Moreover, she used advanced second-generation gene sequencing technology to study the colonization of bacteria in different parts of the female genital tract, and was the first to find human symbiotic bacteria in a female's upper genital tract. The discovery subverts the traditional idea of the female genital tract being gnotobiotic.
Wu is also enthusiastic about social welfare. Using the most advanced international technology, she has raised funds and led her team in conducting over 50,000 free cervical cancer screenings in Guangdong, Guizhou, Jiangxi and Hebei provinces, as well as the Inner Mongolia Autonomous Region, in more than 10 years. (Zhang Yu)