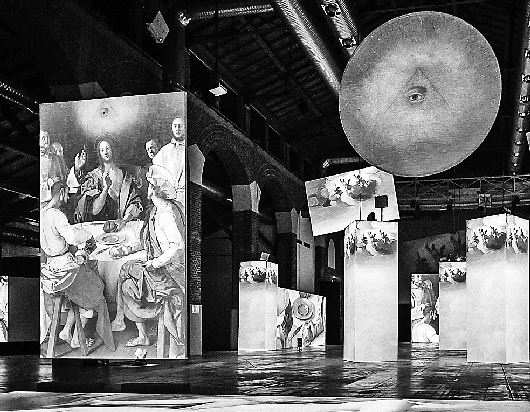 Discover the Renaissance as never before. Experience the greatest masterpieces from the Uffizi Gallery by taking an interactive journey through 400 years of Italian art.
Uffizi Virtual Experience is an immersive interactive virtual exhibit. It literally brings the Uffizi Gallery to life with over 1,150 high-resolution digitalized images, immersive multi projections and interactive technology. Fourteen sculpture replicas authorized by the Italian Ministry of Cultural Heritage and Activities are also on display at the exhibition.
The Uffizi Gallery is a prominent art museum in Tuscany. One of the most important Italian museums, and the most visited, it is also one of the largest and best known in the world, and holds a collection of priceless works, particularly from the period of the Italian Renaissance. The first edition of the digital exhibition was held in Milan from in 2016 in the Cathedral of the Fabbrica del Vapore, a space dedicated to hosting cutting-edge Italian cultural events.
Dates: Until Nov. 15
Tickets: 150 yuan
Venue: Red Cube, 8028 Longxiang Boulevard, Longgang District (龙岗区龙翔大道8028号深圳·红立方)
Metro: Line 3 to Longcheng Square Station (龙城广场站), Exit C(SD News)