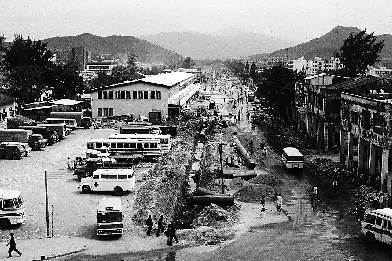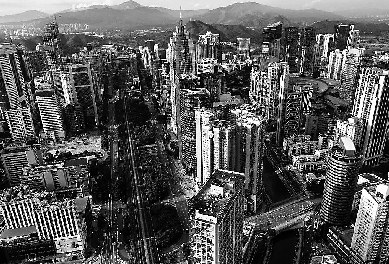 In celebration of the 40th anniversary of China's reform and opening up, the "View of City" photography exhibition is being held in Dongmen.
Organized by the Shenzhen Art Museum and the Shenzhen Photographers Association, the exhibition features 100 sets of old and new photos contrasting Shenzhen's past and present. Landmark spots such as Shenzhen River, Wutong Mountain, Bijia Mountain, Huaqiangbei, Xiangmi Lake, Overseas Chinese Town and Shahe Bridge were recorded in photos taken by He Huangyou in 1984 and 1985.
There are also antique photos from the 1950s-60s by Zheng Zhongjian featuring then Bao'an County, Shenzhen Theater and Shenzhen Railway Station.
Last year, the organizers invited photographers to use unmanned aerial vehicles to capture the aforementioned iconic buildings and venues again for the purpose of documenting the state of the modern and dynamic city today. "We hope to provoke the sharp contrast between the historical images of the Shenzhen Special Economic Zone in the early 1980s and today's metropolis outlook of Shenzhen," says a statement in the exhibition.
Dates: Until Sept. 9
Venue: Siyue Academy, Dongmen, Luohu District (罗湖区东门思月书院)
Metro: Line 3 to Shaibu Station (晒布站), Exit D3(SD News)