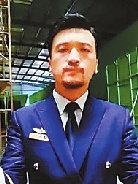 SU YUNAN, a 35-year-old actor from Shenzhen, was diagnosed with a sacral tumor and was in great need of help after two surgeries, Shenzhen TV reported yesterday.
Su began to work as an extra when he was a teenager. He has also played roles in a number of popular movies, such as "Never Say Die," "Operation Red Sea" and "Chasing the Dragon."
He was diagnosed with the sacral tumor at Peking University Shenzhen Hospital a month ago and was later admitted to the First Affiliated Hospital of Sun Yat-sen University.
After a series of re-examinations, it was confirmed that the tumor had a diameter of nearly 12 centimeters and needed to be removed as soon as possible.
Su was brought up by his father as his mother had died of an illness soon after he was born. His father passed away in his teens and he has been leading a vagrant life ever since. He has been to many cities, including Beijing and Shanghai, but later gained access to show business and decided to settle in Shenzhen for its inclusiveness.
Su used to spend his spare time doing volunteer work and taking care of disabled children. Except for his daily expenses, he would donate his extra money to those in need. The broadcaster said he had donated 80 percent of his income before his diagnosis.
Deeply moved by Su's story, Sun Letian, a senior actor from Shenzhen, along with other actors, raised more than 100,000 yuan (US$14,610) for him. However, the money failed to cover all his medical bills and Su presently owes more than 130,000 yuan to the hospital.
Su has undergone two successful surgeries, but can only be treated conservatively because of his arrears. Moreover, as he hasn't received good medication, he has a bit of an infection and was suffering from a high fever when the reporter visited him Monday.
According to the doctor, functional recovery will take a long time, and it's important for patients to be taken care of and undergo psychotherapy after sacral-tumor surgery. If the medical expenses aren't paid, relevant treatments will be delayed.
Sun said that he hopes more loving people will reach out to help, so that Su can survive these difficult times.
(Zhang Yu)