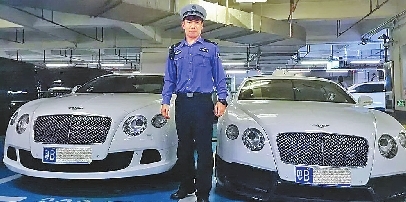 A BENTLEY owner in Shenzhen found his car had a twin with duplicate license plates in Guangzhou after he enlisted help from taxi drivers there by offering a 10,000 yuan (US$1,461) reward.
The owner, surnamed Zhang, received six tickets between June and early August for traffic offenses purportedly committed by his Bentley in Guangzhou, although his car had never been to the city. He soon realized that his car's license plate number must have been duplicated by someone in Guangzhou.
He reported the matter to Shenzhen police Aug. 7. Two days later, Guangzhou police filed the case after Zhang provided them with the details of his car, which he had bought for more than 4 million yuan three years ago.
To find the perpetrator as soon as possible, Zhang offered a 10,000 yuan reward for the person who tracked down the whereabouts of his Bentley's "ghost." One of his friends circulated his reward offer in the chat groups of taxi drivers in Guangzhou.
On Aug. 17, a taxi driver told Zhang that he had possibly found the car on a Guangzhou road. The cabbie followed a Bentley with the same plate number as Zhang's car for several hours. The Bentley eventually parked in the parking lot of Zhengjia Plaza in Tianhe District, Guangzhou that evening, and the cabbie called the police. At the same time, Zhang headed to Guangzhou in his own Bentley, reaching Zhengjia Plaza two hours later.
The taxi driver called several of his co-workers to the plaza parking lot to prevent the Bentley from leaving.
After receiving the report, police officers went to the parking lot and waited for several hours before two men showed up to drive off in the Bentley.
The two told the police that they were employees of the car's owner. Police found another set of duplicate license plates inside the Bentley and impounded it for further investigation. The owner of the suspected car has not visited the police station to cooperate in the investigation, according to the newspaper.
(SD News)