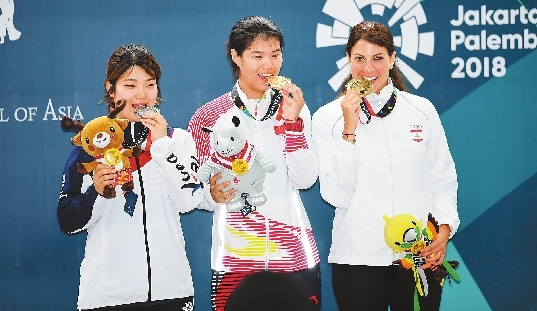 ZHANG XINQIU, an athlete from Shenzhen, won the gold medal with 45 hits out of 50 targets in the final round of the women's trap shooting event at the 2018 Asian Games on Monday, the second day of competition in Indonesia.
Kang Gee-eun from South Korea and Bassil Ray from Lebanon finished in second and third places with 44 and 31 hits, respectively.
Zhang narrowly beat Kang by one point to claim China's seventh shooting gold.
Zhang, 23, broke into a huge smile and jumped up and down, her fist pumping in the air, after a miss by her 27-year-old opponent handed her the victory.
"I felt like all my hard work had finally paid off," she said afterwards with a beaming smile. "I was so excited and emotional."
Zhang didn't start well in the qualification contest, but she kept adjusting and motivating herself. "My flow kept improving, and in the last 30 shots I only missed two hits," she said.
Zhang began training at age 14 at a shooting center in Shandong Province. Between 2011 and 2015, Zhang joined the trap shooting team of Shenzhen Sports School and underwent professional training before being selected by the Guangdong provincial team and the national team.
According to her coach Li Gang, Zhang was very focused on her training and has a solid training base, although her contest results in the early years were not very impressive.
"Her results were generally 67 or 68 hits, lower than the 75 hits of high-level athletes in women's trap shooting. She ranked around 10th in the country," Li was quoted by Shenzhen Evening News as saying.
However, her ranking greatly improved after she won three gold medals at the 2015 Guangdong Provincial Games and won second place at the National Youth Games. At the National Games in Tianjin last year, Zhang won the first gold medal for the Guangdong delegation with 47 hits out of 50 targets.
Four years of hard training in Shenzhen laid a solid foundation for Zhang in stability and concentration. She is thankful for her disciplined training in Shenzhen.
While training at the Shenzhen school, Zhang could not have long hair and had no chance to try on a dress. For her outgoing personality, she was nicknamed Qiuge or Brother Qiu because her follows felt she acted like a big brother to them.
After the Asian Games, Zhang will prepare for the ISSF World Shooting Championships, where she hopes to qualify for the 2020 Tokyo Olympics.
"I cherish all of my training and every contest, so I can attain even better achievements," Zhang said in an interview. (Han Ximin)