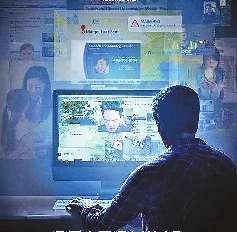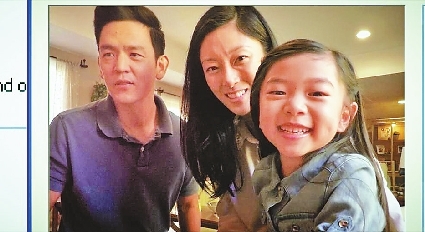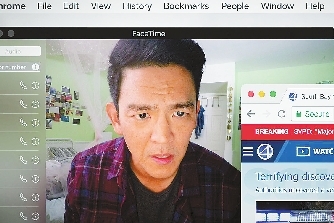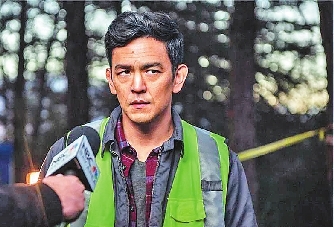 《网络谜踪》
Centered on the Korean-American Kim family living in San Jose, California, the United States, the film in its first few minutes shows how the essentials of a family's life can be portrayed online. We see snippets* of childhood home videos of little Margot Kim, of her playing piano through her first decade of life, and clowning around with her dad David and mother Pamela. But the focus increasingly falls upon the mom and her battle with lymphoma*. We see the ups and downs of hope and fear during hospital visits, her successful treatment, then her relapse* and death in 2015.
Sliding into the present day, David (John Cho) spends a great deal of his time online, and there is a certain comfort in this. But as the film enters real-time territory, David can't reach Margot and becomes worried; she doesn't answer repeated messages and he finds that she's left her laptop* at home.
When he calls Margot's piano teacher, David learns that she hasn't shown up for a lesson in six months. He contacts a couple of other people, with equally frustrating* results, and finally faces the fact that something's up.
With panic* setting in, David reports his daughter missing to local police and is put in touch with a detective named Rosemary (Debra Messing), who's very serious and gets right on the case. The more time goes by in such a case, the less likely a positive outcome will be, and this is where the links between crime narrative and technology become engrossing*.
Working his way into Margot's email and Facebook accounts, David learns all kinds of bewildering* and disturbing* things about his daughter.
The film is like spending 90 minutes on the Internet. Then, it starts feeling more like a conventional* suspense* film once the deep search for information on the Internet is over and the film enters real time and a possible resolution. There are a couple of good twists* in a plot that's pretty solid from a crime story point of view.
In all respects, what director Aneesh Chaganty and his team have pulled off here is something both novel and accomplished.