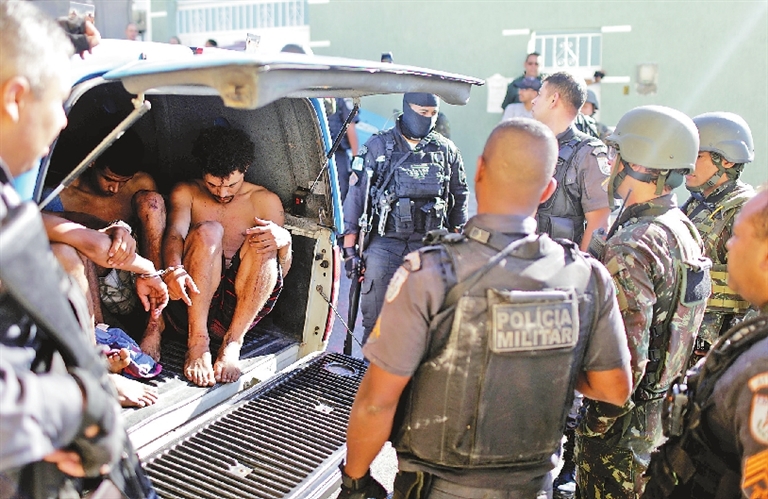 RIO de Janeiro's drug war hit a bloody crescendo Monday when at least 11 suspected criminals and two soldiers were reported killed in a huge military sweep through impoverished favelas and during a rush-hour police car chase.
The military command heading security in Brazil's second-biggest city said the two troops killed were the first lost since conservative President Michel Temer sent them to protect Rio.
The military command said 4,200 soldiers, backed by armored vehicles and aircraft, entered the Penha neighborhood and the Alemao and Mare favela complexes — poor, densely populated swaths of city in large part run by heavily armed drug traffickers.
Only 70 police officers were said to be involved, suggesting a turnaround from previous operations into the dangerous favelas where police have taken the lead and soldiers provided backup.
According to the Rio police force, 430 kilograms of drugs were seized in the Mare, a far bigger amount than usual in such operations, which often end with few concrete results.
Troops removed roadblocks erected by drug gangs, followed up on tipoffs against suspected traffickers, and checked vehicles and residents, the military said in a statement.
In addition, "troops distributed leaflets asking for cooperation from the population," it said.
The military said the incursion brought "positive effects" to some 550,000 residents.
However, human rights activists worried that the deaths and the overwhelming role of soldiers, as opposed to police, signaled a concerning development in Rio's unending crime wars.
"We think this is very serious. If there is confirmation that the dead were executed by officers of the armed forces, it would be a troubling change," said Silvia Ramos, from the Observatory of the Intervention, which monitors the security forces in Rio.
"The armed forces cannot enter this logic of useless confrontations and unacceptable killings that are the hallmark of the Rio police."
In a separate incident in the Rio suburb of Niteroi, six suspected armed criminals were shot dead by police after a rush-hour car chase that briefly caused traffic snarls near one of Rio's main bridges.
Police said in a statement that "four died on the spot and two died in hospital, and three were taken prisoner."(SD-Agencies)