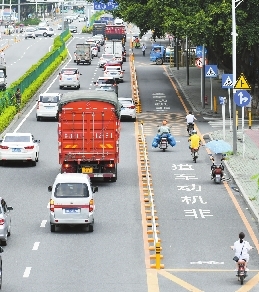 SHAJING Subdistrict in Bao'an is piloting nonmotor lanes with a guardrail separating bicycle and e-bike riders from motorists along Xihuan Road.
The practice of separating nonmotor vehicles from motorists has been praised by commuters as it greatly reduces accident risks, according to a report by the Daily Sunshine.
"In Shajing, many people ride their e-bikes to work. To rush, they often ride in traffic. The nonmotor lanes will provide a safe space for riding," a resident was quoted by the newspaper as saying.
Despite the improvement in safety, some drivers complained that congestion was worse after the motor lanes had been narrowed to two as the outermost motor vehicle lanes on either side of Xihuan Road have been turned into nonmotor vehicle lanes.
Leng Xiangfei, the transport liaison of the Shajing Subdistrict Office, said the nonmotor lanes are absolutely necessary for the subdistrict's situation, being home to 700,000 residents, 95 percent of whom are migrant workers. In Shajing Subdistrict, there are around 300,000 e-bikes running on the streets, as they are favored by workers. In Bao'an District, half of the fatal accidents are e-bike related. The most important thing to consider, Leng said, is how to create a safe environment for e-bike riders.
"The rise of shared bikes has solved the last-mile of the people's commute. Shared-bike riders should be given priority on the roads. There are no nonmotor lanes on most roads, so bike riders have to squeeze in with pedestrians on the sidewalk. The mixture of vehicles and pedestrians can easily cause accidents," said Leng.
Leng said that this practice should be promoted in the city, and the subdistrict will designate nonmotor lanes on Nanhuan Road. The width of the motorist lane will be narrowed from 3.5 meters to 2.5 meters.
Shenzhen has planned to build 1,000 km of bicycle lanes by 2020. The new and renovated roads are required to include independent bicycle lanes.
(Han Ximin)