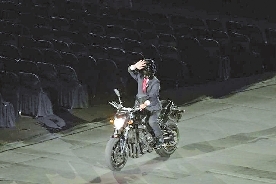 INDONESIAN President Joko Widodo found himself flavor of the month on social media Sunday as Indonesians lapped up his motorbike stunt skit at the Asian Games opening ceremony.
A motorbike stuntman posing as Widodo, known as 'Jokowi', leapt off a ramp and pulled other tricks in Jakarta's streets before riding into the Gelora Bung Karno stadium and disappearing into the basement.
Widodo then walked out of an elevator and took his seat in the VIP section, prompting laughter and cheers in the stadium.
"I nearly cried, Koreans are calling Jokowi oppa (brother) after watching him riding the bike, and now they want him to give them a ride," one Twitter user posted, while another post likened him to a Hollywood star.
"It seems like Jokowi will star in the next sequel of Mission Impossible," it read.
Widodo, 57, who was also spotted gyrating in his seat to music during the ceremony, joked about the motorbike video sequence with his 10 million followers on Twitter.
(SD-Agencies)