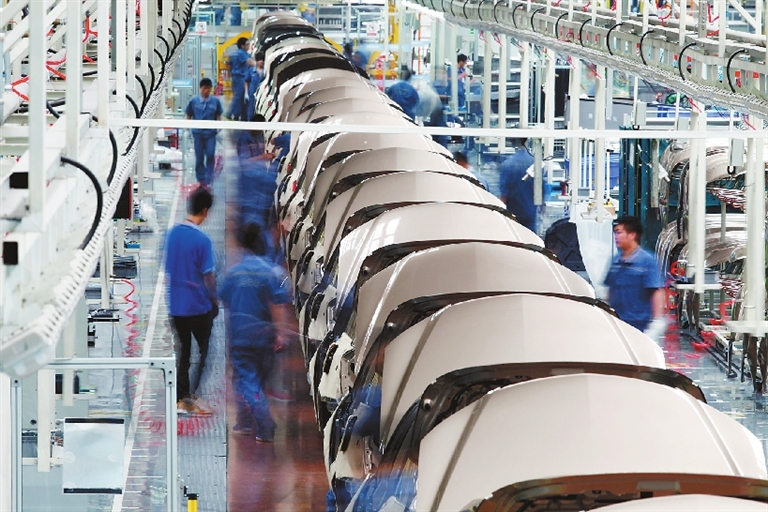 GEELY Automobile Holdings Ltd. beat analyst forecasts with a 54-percent rise in net profit yesterday and said it expected to surpass its 2018 sales forecast despite slowing auto demand and China-U.S. trade frictions.
Geely, once known for cheaper designs, has assumed upmarket aspirations after a tie-up with venerable Swedish brand Volvo Car Group and the launch of new sport utility vehicle (SUV) models.
The carmaker posted a net profit of 6.67 billion yuan (US$970.32 million), 54 percent higher than the 4.34 billion yuan it made in the same period a year earlier. That compared with the 6.55-billion-yuan average estimate of four analysts, according to Thomson Reuters I/B/E/S.
Revenues during the period rose 36 percent year on year to 53.71 billion yuan.
Geely said it had a confident outlook despite challenges such as slowing growth in passenger vehicle demand in China and a trade row between China and the United States that threatens tariffs on automobiles. Its affiliate Volvo exports Chinese-built vehicles to the United States.
"The group's management team is very confident to achieve, and believes it is likely to exceed, the full year sales volume target of 1.58 million units in 2018," Geely said, adding it aimed to reach sales of 2 million units on or before 2020.
The company, based in the eastern Chinese city of Hangzhou, has benefited from high-profile deals made by its parent firm, unlisted Zhejiang Geely Holding Group, such as the acquisition of Volvo in 2010.
Affordable models introduced after that acquisition, such as the Boyue sport utility vehicle, have been popular with buyers in China, where SUVs make up 58 percent of Geely's total sales.
Geely sold 766,630 vehicles between January and June, 44 percent higher than over the same period last year. It sold 1.2 million cars in 2017.
New models from Lynk & Co. — a brand co-owned by Zhejiang Geely, Volvo and Geely Auto — could boost Geely's second-half sales, said Zhuang Dan, a Hong Kong-based analyst at RHB Research.
"Lynk & Co.'s 01 (model) saw good sales performance. So if 02 and 03 can sell well, it will give a big increment to share price," she said.
Geely said Saturday it would extend its existing partnership with Malaysia's Proton Holdings Berhad to upgrade its line-up of cars and help Proton establish a presence in China. (SD-Agencies)