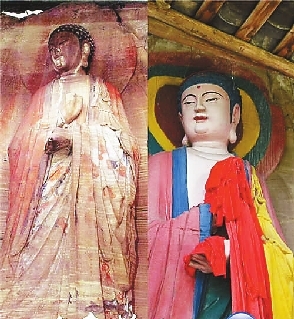 THE botched restoration of a 1,000-year-old Buddha statue in Southwest China has sparked widespread shock and ridicule after photos of its cartoonish color scheme surfaced online.
The relic was splashed with bright red, blue and yellow paint, making the circle behind the Buddha's head look more like a lollipop or dartboard than a halo.
The Buddha is located in Anyue County in Southwest China's Sichuan Province, and dates back to the Song Dynasty (960-1279), according to CNR.
The restoration work was proposed and completed back in 1995 by local villagers who "lacked knowledge on cultural relic conservation," the Anyue County government said in a statement on its official Weibo account, addressing the viral photo. By the time the government noticed, the project was already finished, the statement went on to say.
"After the incident, the Administration of Cultural Heritage improved the management and protection of other relics," it added. "No similar repair work has been carried out again in recent years."
The incident was initially posted in a before-and-after photo by Xu Xin on Weibo, a narrator who works at the Yulin Buddhist cave temple site at the Dunhuang grottoes in Northwest China's Gansu Province, one of the country's most celebrated sites for cultural relics.
Condemning the catastrophic restorative efforts, the post echoed a storm of criticism on social media.
Some pointed to government oversight, while others were taken aback by the aesthetic impact, which masked the designs of the original relics.
While the latest botched repair work went viral, it has been compared to other similar relic restorations which gradually re-surfaced online.
Anyue County has more than 218 sites bearing more than 100,000 sculptures going back as early as the 900s, according to CNR.
At many other local Buddhist sites, parts of the refurbished sacred figures stick out, but for all the wrong reasons. The restored sculptures at many sites lost their original noses and ears while being repaired.
(SD-Agencies)