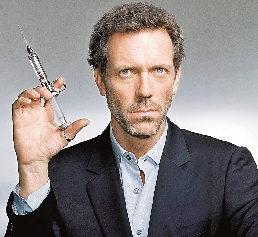 THE Emmy-nominated "Veep" alum has been tapped to star in "Avenue 5," a space comedy from Armando Iannucci.
The project, which currently has a pilot commitment and order for backup scripts, is set in the future, mostly in space. Laurie will take on the role of Ryan Clark, the charming and in-control American captain of the Avenue 5. Iannucci created the series and will executive produce.
The casting expands Laurie's relationship with "Veep" creator Iannucci after the actor had a recurring guest role in the fourth season of the Julia Louis-Dreyfus comedy and completed production in the writer-producer's feature film "The Personal History of David Copperfield." Laurie recently wrapped production in Hulu's take on "Catch-22," where he plays Major de Coverley in the six-part miniseries due in 2019.
For Laurie, the "Avenue 5" role is his first series-regular part following Hulu's two-season drama "Chance." The actor earned six Emmy nominations for his lead role on the Fox medical drama "House," and other credits include his Emmy-nominated role on the AMC miniseries "The Night Manager" and appearances in the features "Tomorrowland," "Monsters vs. Aliens" and "Sense and Sensibility."
"Avenue 5" was picked up to pilot last September. It marked Iannucci's return to HBO since he exited his role as showrunner on "Veep" at the end of Season 4 to spend more time at home in London. The pilot will shoot in London this year.(SD-Agencies)