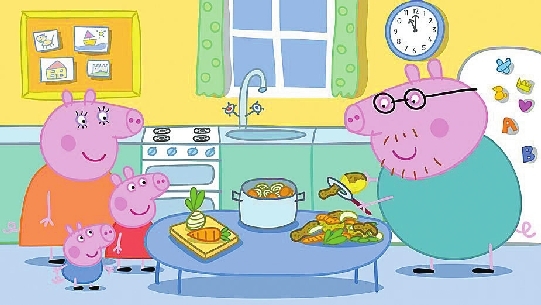 BELOVED animated character Peppa Pig is heading to Chinese movie screens for a particularly auspicious occasion: The Year of the Pig.
Entertainment One and Alibaba Pictures Group on Wednesday confirmed long-rumored plans to co-produce a "Peppa Pig" movie targeted at Chinese children. The partners plan to release the film in China on Feb. 5, 2019, which will usher in the Chinese zodiac's Year of the Pig.
The partners say the feature-length film, titled "Peppa Celebrates Chinese New Year," will contain both live-action and new animated content. The film is said to have many Chinese New Year traditions, such as dragon dancing and making dumplings. The film will also introduce new China-ready characters, such as the Panda Twins.
Created by Astley Baker Davies, the original "Peppa Pig" animated television series premiered in Britain in 2004. A favorite among preschool-aged children around the globe, the show's five seasons to date have been broadcast in over 180 countries.
"This cooperation is an important opportunity to promote cultural exchange between China and the West," said Wei Zhang, president of Alibaba Pictures. "Alibaba Pictures is excited to share China's traditions and culture with the rest of the world with a new, fun-filled storyline featuring a character as popular as Peppa."
Entertainment One, in a separate deal with Madame Tussauds owner Merlin Entertainments, is set to open a Peppa Pig-themed attraction in Shanghai's LC Mall later this year.
Alibaba says it is developing limited-edition panda-themed Peppa Pig goods to exclusively release through its licensing and merchandising business Ali Fish.(SD-Agencies)