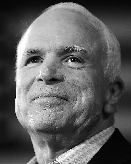 JOHN MCCAIN, an American hero who served as a United States Navy captain and a member of Congress for a combined six decades, died Saturday, his office announced. He was 81.
During three decades of representing Arizona in the Senate, he ran twice unsuccessfully for president. He lost a bitter primary campaign to George W. Bush and the Republican establishment in 2000. He then came back to win the nomination in 2008, only to be defeated in the general election by Barack Obama, a charismatic Illinois Democrat who had served less than one term as a senator.
McCain was a giant of the United States Senate and a lifelong public servant who won respect and admiration from his colleagues on Capitol Hill and from world leaders for his defiant policy positions, particularly on issues relating to the military and national security.
He was a tough and, at times, feisty and brash legislator, but he forged friendships and bonds that cemented his place in history as a dealmaker. His political opponents sometimes branded him a war-monger and a reactionary at worst but never doubted his unwavering adherence to his principles, his tireless support for American troops, and his enduring commitment to public service.
McCain entered the Navy in 1958 at age 22, and two years later he was certified as a naval pilot. In 1967, a missile shot down his Skyhawk dive bomber over North Vietnam.
He was held there as a prisoner of war (POW) at the so-called Hanoi Hilton prison for more than five years, two of them in solitary confinement.
The North Vietnamese offered to release McCain after his father, John McCain Jr., was appointed as chief of U.S. forces in the Pacific — but he twice refused, demanding that all POWs be released along with him.
He was released in 1973 and went on to receive several military honors, including two Purple Hearts.
His personal experiences with torture led him to oppose the so-called enhanced interrogation techniques employed by the CIA during the Bush-era war on terror.
One of his final speeches on the Senate floor was a blistering rebuke of a Trump administration nominee who devised the legal justification for the use of torture during the George W. Bush administration.
"This is a dark, dark chapter in the history of the United States Senate," McCain said in the Nov. 14 address. "We are harming the commitment that our forefathers made that we are all created equal. And unfortunately we have now betrayed that sacred trust."
McCain was a perpetual driving force in national politics since the turn of the century.
No matter how polarized the political climate had become, McCain never hit his political opponents below the belt — even when doing so might carry great political benefits.
McCain won praise when, during a town hall event in 2008, he pushed back against voters who suggested that Obama represented an existential threat to America.
"I want to be president of the United States and obviously I do not want Sen. Obama to be. But I have to tell you, he is a decent person and a person that you do not have to be scared of as president of the United States," he said to the crowd, which booed in response.
(SD-Agencies)