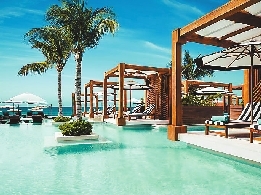 VIDANTA, a collection of premier entertainment and destination resorts across Mexico, announced the launch of the "World's Best Job" global campaign, where one lucky candidate will land the dream job of a lifetime.
The campaign seeks a brand ambassador to leave the office life behind and make some of Mexico's most impressive resorts their new workplace.
Days will be spent acting as Vidanta's on-location social influencer, gathering content by experiencing all of the comfort, relaxation, adventure and luxury they have to offer.
The job will come with an attractive one-year salary of US$120,000 plus travel expenses, dining credit at each of the resorts, and resort accommodations at Vidanta Nuevo Vallarta, the most expensive of all Vidanta destinations set on over 2,500 acres (1,013 hectares).
All applicants must apply online via worldsbestjob.com and submit their resume in addition to an optional 60-second video. Final deadline for applications is Oct. 21.
(SD-Agencies)
If your idea of a dream job includes exploring ancient Mayan ruins, being pampered in luxury resort spas, stargazing along the Sea of Cortez, and zip lining through the jungle then Vidanta has a job offer you'll be all-the-hell-about. Vidanta is one of the leading luxury resort companies serving Mexico and Latin America, and they're offering one lucky candidate what they call the "World's Best Job" — a brand ambassador for some of Mexico's most luxurious resorts.
Generally speaking, working blows. Who wouldn't much rather be taking pictures on some of Mexico's most beautiful beaches, getting drunk — er, we mean, relaxing — and soaking up all that resort life has to offer right now?
Vidanta is offering the lucky candidate a $120,000 salary plus travel expenses, dining credit, and resort accommodations at Vidanta's largest destination Nuevo Vallarta. If you're reading Uproxx (or human), chances are this is your dream job. But there is a catch. As an on-location social influencer, Vidanta expects you to create engaging content by experiencing all the comfort, adventure, and luxury that they have to offer.
It's a cruel trade off but we guess we can manage.
Honestly, people love pictures of fancy ass hotels and if you can't find a good photo opportunity while chilling with whale sharks after parasailing over San Jose street art, then frankly you don't deserve to dream. If you think you aren't qualified for such a job, stop being a damn square. No formal experience is required! Ideally, sales or hospitality experience is a plus and relocating to Mexico is obviously required, but if you're interested all applicants should apply online and submit their resumes. Including a minute long video is an option, and we say "why not?" — it's the perfect opportunity to let your personality shine.
Lovers of travel and watching baby turtles hatch from eggs have until October 21st 11:50 CDT to submit their resumes. Good luck — there can only be one winner and… I'm just going to say it…I hope it's me and not you.