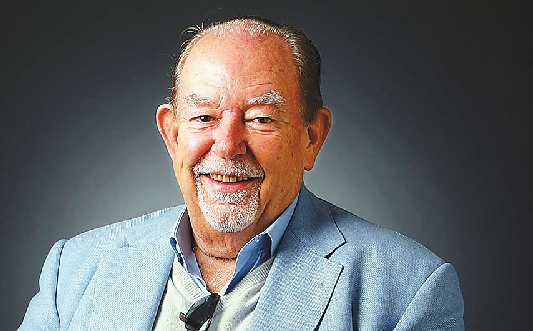 ROBIN LEACH, the British gossip guru who became a staple of television in the United States as host of "Lifestyles of the Rich and Famous," died Friday. He was 76.
"Despite the past 10 months, what a beautiful life he had," Leach's sons Steven, Gregg and Rick Leach said in a statement to the Las Vegas Review-Journal newspaper, where the elder Leach had worked most recently as a gossip columnist.
For TV viewers of a certain age, Leach was best known as a symbol of the finer things, a guide who brought the opulent lifestyle of celebrities into middle American living rooms from 1984 to 1995.
The London-born Leach broke into journalism in 1956, at the age of 15, for the tiny Harrow Observer, and then worked his way up to become an editor of the Daily Mail just three years later.
But fame beckoned after he arrived in New York in 1963, where he would write for the New York Daily News. Celebrity lifestyle stories seemed to suit him, as he joined a new magazine called People. There he wrote the magazine's first 11 cover stories.
"Celebrities liked talking to him because he didn't look at you as an insect that he was trying to dissect," said actress Morgan Fairchild. "He made everything fun. He wanted you to have fun, too."
In 1980, he joined another fledgling outlet with recurring work on CNN's "People Tonight" show.
But Leach will forever be known as the host of "Lifestyles of the Rich and Famous," a program he created in 1984 with TV producer Al Masini, the mastermind behind "Solid Gold."
The syndicated show ran through 1995, giving viewers a voyeuristic peek at the champagne wishes and caviar dreams of the titular rich and famous.
In 1999, he moved to Las Vegas, where he continued in his first love — mining celebrity culture in newspapers.
"I look at it as a challenge. It's another [opportunity] to make something out of thin air. I'll work as many hours as necessary," Leach told the Hollywood Reporter at the time he started as the Review-Journal's celebrity correspondent. "I've never shied away from hard work."
It is a testament to his place in pop culture that those rich and famous friends still came to the middle of the Nevada desert to see him.
"He was a really good friend who I enjoyed being with when I visited Las Vegas, and I loved being on his show," said actress Joan Collins, who had been profiled on "Lifestyles of the Rich and Famous" at least eight times. "He was great fun and will be missed by all his friends."
(SD-Agencies)