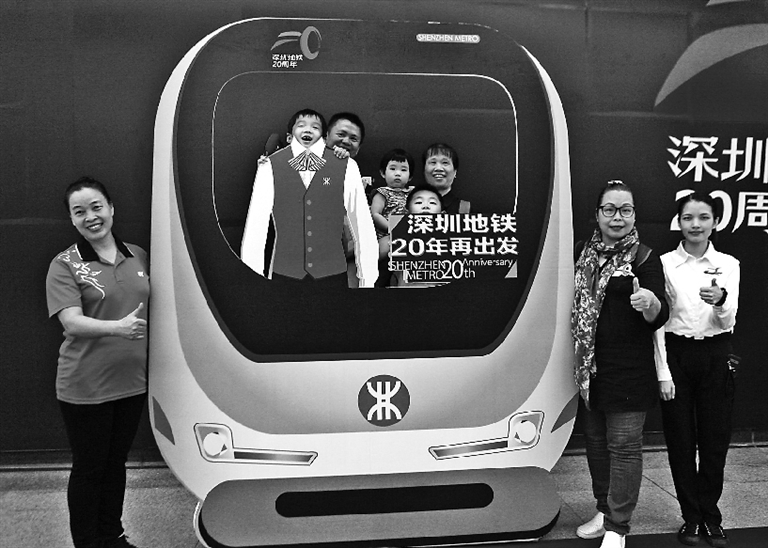 Han Ximin
ximhan@126.com
THE daily average ridership of Shenzhen Metro has reached 4.28 million, accounting for 42 percent of the city's public transport, as its operator celebrated the 20th anniversary of its founding yesterday.
The seven lines operated by Shenzhen Metro Group, extending 265 kilometers in total length, have become the backbone of urban development in the city, according to the company.
Shenzhen now has eight Metro lines, with Line 4 being operated by MTR Corp. (Shenzhen), a subsidiary of Hong Kong's MTR Corp.
"At present, work on an additional 273 kilometers of Metro lines and intercity rails is under way at more than 400 construction sites across the city, a record in the history of the city's Metro," Xin Jie, chairman of Shenzhen Metro Group, said at the ceremony.
The National Development and Reform Commission gave Shenzhen the go-ahead for Phase IV of the Metro network in July 2017.
Phase IV includes the spur line of Line 6, and Lines 12, 13, 14 and 16. Construction on the projects started earlier this year. Upon completion in 2022, the length of the city's Metro network will total 580 kilometers.
The 20th anniversary ceremony was marked at Futian Station with riders sharing cakes, viewing a monthlong photo exhibition on the development of the city's Metro service and important moments from the past 20 years, and riding on specially decorated Line 11 trains.
The progress of the Metro service can also be seen in the application of technologies. So far, the number of Metro riders registered to use QR-code payment has reached 3.67 million, and 421,000 riders use QR codes to pay for rides a day on average.
The Metro company will ensure all turnstiles at Metro stations accept QR payment before the end of the year.
When the section of Line 1 between Luohu Railway Station and Window of the World opened in December 2004, it was Shenzhen's first Metro route, making it the sixth city on the Chinese mainland with a subway, following Beijing, Tianjin, Shanghai, Guangzhou and Wuhan.
The line was gradually extended, and in 2011, the complete line between Luohu Railway Station and Shenzhen Airport East was fully operational, taking 60 minutes from end to end.
At present, a total of 360 trains are running on the seven lines and the passenger turnover on July 20 hit a record of 5.41 million.
According to the city's long-term plan, Shenzhen will have a 1,335-kilometer Metro network with 33 lines by 2035, 4.7 times the present rail length.