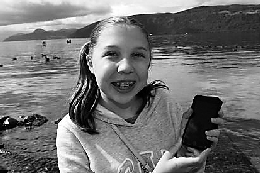 A YOUNG British girl is said to have taken the best pictures of the Loch Ness Monster "for years" while she was holidaying with her parents.
Charlotte Robinson, 12, was staying at the Loch Ness Highland Lodges at Invermoriston with her parents when she spotted the elusive beast just 50 feet (15.25 meters) away on the first day of her holiday.
Charlotte said the famous monster popped its head out of the water for about a minute before resurfacing 10 feet further away about seven minutes later.
The little girl was with her mother Kat, 41, a business intelligence data analyst, and father Dave, 52, a factory worker.
Nessie made her appearance Aug. 17 and Charlotte managed to capture the moment on her iPhone.
Nessie expert Steve Feltham, 55, who has been searching for Nessie for 27 years, said he was "totally excited" by the photo and thought it was the best one in years.
So far this year there have been four official sightings of the monster.
Earlier this month an unnamed tourist claimed to have filmed the monster poking out of the water of the loch.
In May, a schoolgirl and her grandmother claimed to have caught the Loch Ness Monster on camera while going for a paddle in the iconic lake.
Eight-year-old Laria Annand began recording after her grandmother Marie noticed a mysterious ripple on the water. Last year there were 11 accepted sightings, the highest number this century.
(SD-Agencies)