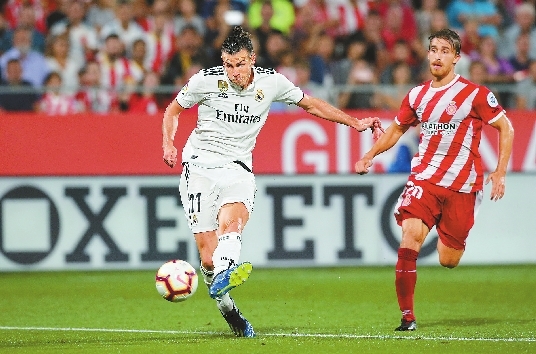 GARETH BALE and Karim Benzema are keeping Real Madrid's attack alive in the absence of Cristiano Ronaldo.
Benzema scored twice and Bale once as Madrid came from behind to earn a 4-1 win at Girona on Sunday, remaining perfect in the Spanish league after two rounds.
Sergio Ramos also scored for Madrid as it kept pace with Barcelona. Athletic Bilbao, Levante and promoted Huesca can match them with six points when they play their matches the next day.
Ramos and Benzema converted penalty kicks after the hosts opened the scoring with Borja Garcia in the 16th minute at Montilivi Stadium. Bale added the third in a breakaway and Benzema closed the scoring from close range.
There was concern in Madrid about whether the team could maintain its attacking prowess after Ronaldo departed to Juventus but it's so far, so good thanks to the veteran forwards who stayed.
Bale had also scored in the team's league opener, a 2-0 win against Getafe, and Benzema found the net in the team's loss to Atletico Madrid in the UEFA Super Cup final.
Bale, who hadn't been starting when Ronaldo was still on the team, also set up Benzema's second goal Sunday, which had to be confirmed through VAR amid doubts about offside. The French striker also had a goal correctly disallowed for offside in the first half.
Barcelona won 1-0 at Valladolid on Saturday. (SD-Agencies)