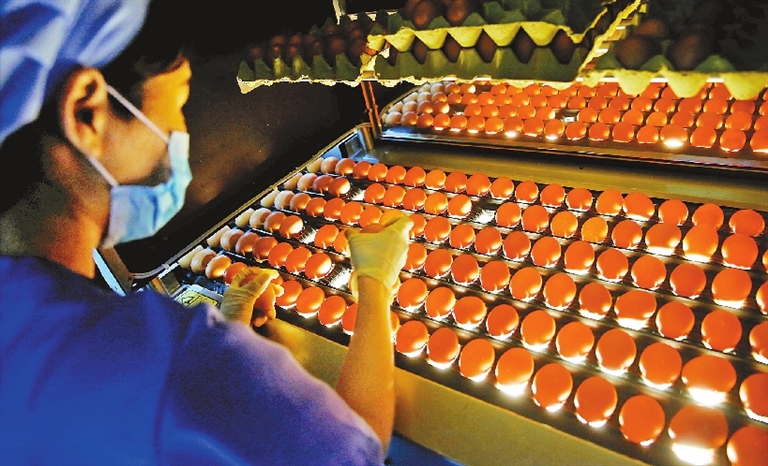 BEHIND a row of sealed red incubator doors in a new facility in northern China, about 400,000 chicks are hatched every day, part of the rapidly modernizing supply chain in China's US$37 billion egg industry, the world's biggest.
As China overhauls production of everything from pork to milk and vegetables, farmers raising hens for eggs are also shifting from backyards to factory farms, where modern standardized processes are expected to raise quality and safety.
It is spurring demand for higher priced branded eggs over those sold loose in fresh produce markets.
"These days if you're a small farmer, your eggs won't get into the supermarkets," said Yuan Song, analyst with China-America Commodity Data Analytics.
Tough new regulations on treating manure and reducing the environmental impact from farms have also pushed many small farmers out.
Most egg producers now have between 20,000 and 50,000 hens, said Yuan, a significant change even from two years ago. The remainder with less than 10,000 birds are likely to be shut down soon as local governments favor larger producers that can be more easily scrutinized.
Those rapid changes are driving investments like the 150 million yuan (US$22.60 million) hatchery in Handan, about 400km southwest of Beijing.
The highly automated plant, owned by a joint venture between China's Huayu Agricultural Science and Technology Co. and EW Group's genetics business Hy-Line International, is the world's biggest hatchery of layer chicks, or birds raised to produce eggs rather than meat.
By producing 200,000 females a day, or around 60 million layers a year (one day a week is for cleaning), it can meet demand from larger farms who want to buy day-old-chicks in one batch, said Jonathan Cade, president of Hy-Line International, based in West Des Moines, Iowa.
"That's the best way to start off with good biosecurity," he said. When the birds on one farm are the same age, they are less likely to spread disease.
Imported, latest-generation equipment helps speed up the throughput of the hatchery.
Only 20 staff will be needed in the new plant, compared with around 100 in Huayu's older hatchery, said Huayu chairman Wang Lianzeng.
Efficiency is important in an industry which is not expected to see much volume growth. The Chinese already eat more eggs per capita than almost everyone else, about 280 a year, or almost 1 billion a day across the country, so consumption is unlikely to rise much.
Breeders like Huayu are trying to grow by taking market share from others. In addition to the new Handan hatchery, it is building another in Chongqing, which will bring annual production to 180 million chicks.
Layer inventory last year was around 1.2 billion, according to the China Animal Agriculture Association.(SD-Agencies)