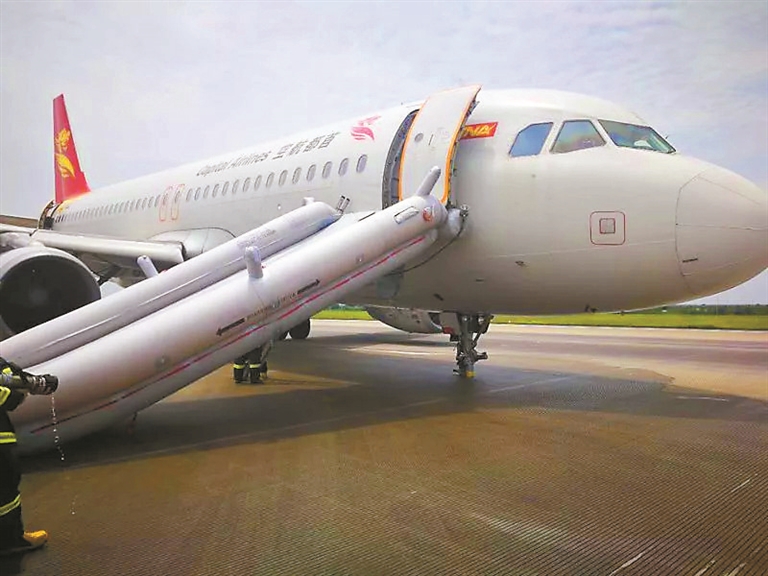 Han Ximin
ximhan@126.com
FIVE passengers were slightly injured when a Chinese flight was forced to divert and make an emergency landing at the Shenzhen airport yesterday after a mechanical failure.
Flight JD5759, operated by Beijing-based Capital Airlines, was en route from Beijing to Macao with 166 people on board. It was forced to land in Shenzhen at 11:58 a.m. yesterday, said the airport. The airport closed down a runway for three hours, causing many flights to be delayed.
The airport said it received a notice from the control tower and initiated an emergency plan at 11:40 a.m. so the plane could land. The plane successfully landed at 11:58 a.m.
Passengers and crew were evacuated by emergency slides upon landing, and both tires of the front landing gear of the plane were found missing.
"Due to the incident, one runway was closed between 12:30 p.m. and 3:30 p.m., and some flights were delayed despite the other runway operating normally," the airport said.
The flight took off from Beijing Capital International Airport at 8:17 a.m. and is suspected to have encountered wind shear while attempting to land in Macao, Capital Airlines said in a statement.
Concluding that the landing gear may have been damaged, the pilot aborted the landing and decided to divert to make an emergency landing in Shenzhen, about 40 km northeast of the SAR.
According to meteorological experts, wind shear, the abrupt change of wind velocity and direction, could cause a flight to lose speed control. The best response is to leave the wind shear area.
According to a report on Duchuang, a Shenzhen news app, quoting sources from the Civil Aviation Administration of China, the plane took off again at around 11:15 a.m. after its landing gear touched ground at the Macao airport. It then declared Mayday due to a mechanical problem with the landing gear. The control tower at the Macao airport also reported finding tire fragments on the runway.
According to experts, a burst tire can cause a plane to alter direction or bind up, and to prevent further damage a pilot is required to gear up the plane for a second takeoff until the crew can find a better way to land.