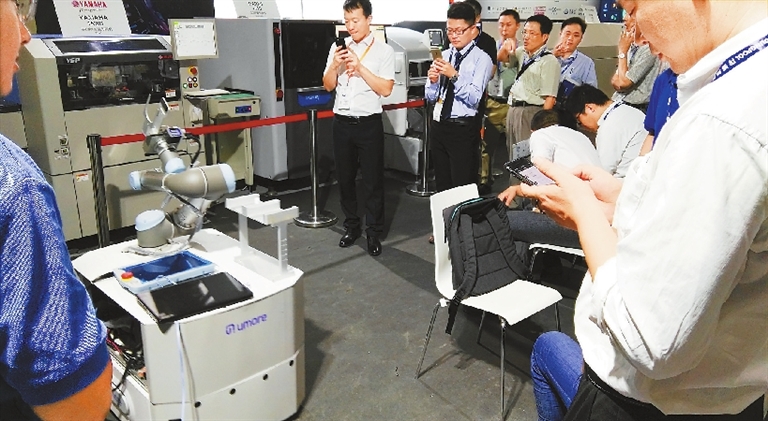 Chen Xiaochun
654789759@qq.com
SOME exhibitors shared with the Shenzhen Daily the impact of the China-U.S. trade war on their business at the NEPCON South China exhibition at Shenzhen Convention and Exhibition Center yesterday.
He Zhongya, chief engineer of Suzhou Osaitek Photoelectric Technology Co., which specializes in silent detection and non-destructive testing, said that the trade war does affect their company. "Our core components all come from the U.S. The prices of the imported components have gone up by over 20 percent. The trade war between China and the U.S. not only affects us, but also our clients. As for our clients, they have reduced their production and suspended their procurement plans because of lack of capital. The overall business has been affected."
"We want to develop our own components so that we won't be restricted by others. We have been developing our own nano-scale light source and detector. The detector created in China is already quite good now but some key components still need to be imported from the U.S. However, bit by bit, I believe China will surpass other countries," said He.
Weng Dong, general manager of Shenzhen Intelligent Inserter-Placer Precision Machinery Co., which produces odd-form component inserters, has seen limited impact. "The trade war doesn't impact us that much because our components come from all over the world. We can avoid importing key components like controllers from the U.S. by purchasing from suppliers in Japan or European countries like Germany," said Weng.
"One of our major clients, ZTE, initially suspended production due to the sanctions imposed by the U.S., but resumed production last month," said Xu Yanran of the marketing department of Shenzhen Fastprint Circuit Tech Co., when commenting on the influence of the trade war on the industry of printed circuit boards.
"By the end of 2017, our business in automobiles was less than 1 percent of our total business, so the influence by now is not obvious," said Xu.
Larry Chen, supervisor of the global marketing department of Test Research, Inc. headquartered in China's Taiwan, said that the changes in tariffs have affected international companies. The mainland is an important market for his company, which focuses on PCBA testing and inspection products, he said, adding that the company hopes there is no interference from tariffs.
"Some of our clients have offices in the U.S., so if we export there, we will definitely be affected. To cope with this, we will spread the risk. We will further improve our service to increase the confidence of our clients," said Chen.
The exhibition, co-organized by CCPIT Electronics & Information Industry Sub-council and Reed Exhibitions, is being held at Shenzhen Convention and Exhibition Center from yesterday through tomorrow, along with three other exhibitions, S-Factory Expo, CS Show 2018 and Automotive World China.
The combined mega expo is hosting 650 leading brands from 22 countries and regions.