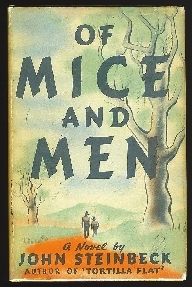 Written by John Steinbeck, this book published in 1937 is a well-known classic.
The novel is set in the 1930s during the Great Depression* in California. The two prominent characters, George and Lennie, are farm workers who have a dream of one day owning their own ranch*.
They had fled Weed after Lennie touched a young woman's dress and wouldn't let go, leading to an accusation* of rape. It soon becomes clear that the two are close and George is Lennie's protector, despite his antics*.
After being hired at another farm, the pair are confronted* by Curley — the boss's small, aggressive son with a Napoleon complex who dislikes larger men, and starts to target Lennie. Curley's flirtatious wife, to whom Lennie is instantly attracted, poses a problem as well.
In spite of problems, their dream leaps towards reality when an elderly farmhand named Candy offers to pitch in* US$350 with George and Lennie so that they can buy a farm, in return for permission to live with them.
After finding out about Lennie's love of touching soft animals, Curley's wife offers to let him stroke* her hair, but panics and begins to scream when she feels his strength. Lennie becomes frightened, and unintentionally breaks her neck and runs away. When the other ranch hands find the corpse, George realizes that their dream is at an end.
To stop Lennie from being tortured by lynching at the hands of Curley, George hurries to find Lennie and shoots him.
The book is available at online bookstores like jd.com.
(SD-Agencies)