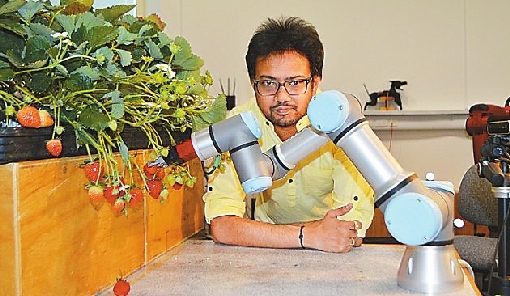 Experts are developing a robot to replace human strawberry pickers.
Vishuu Mohan, a computer science and engineering lecturer who is leading the project, said: "The challenge is that no two berries are the same. They come in different shapes, sizes, order of ripeness and many are hidden in the foliage*. Also the environment keeps changing constantly — sunny, windy, rainy — in contrast to a typical industrial environment. Hence, dextrous manipulation* in unstructured environments is a big challenge for robotics today."
Mohan's team is looking at how robots can work in natural, unstructured environments where they can pick, inspect and pack fruits.
He added: "Skilled humans find it effortless, but when we try to build a system which does the same thing, it is a complex integration of vision, touch, force and movement and on top of it the ability to learn and adapt, which is the only way to deal with any changing, unstructured environment."
Andrey Ivanov, manager of Wilkin and Sons farm in Essex, said: "Fruit picking may seem a simple task but picking the fruit without touching the berry will be a challenge."
A prototype of the robot is expected to be ready within a few months.(SD-Agencies)