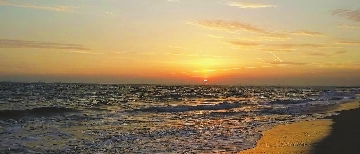 Constrained between two full moons,
California glows with its horizon on fire.
From sunrise to sunset,
A brief four weeks to quench my heart's desire.
Transpacific flights to and from paradise
Bring with them hopes and dreams,
While taking back reflections:
A collection of memories.
The blue hues of the ocean
Contrasting with the whites of crashing waves,
The sky above, mirroring my thoughts
On these carefree Summer days.
The Golden State has, is, and will
Forever be my home.
Yet this global educational trek I'm on
Encourages my mind to roam.
Family and Friends coupled with
Tacos and beer
The Moon meanwhile, playing games,
And by mid-August, has disappeared.
Mexican Cacti and the Californian Poppy
Line the edges of the sand;
Tepid green and bright orange
In this beautiful desert land.
Innate love and lifelong friendships
Dot my days and nights,
My mind body and soul
Not wanting to get on that returning flight.
Yet the Moon, she reappears
Bright as the night I came,
Telling me it's time to go back now,
California, another time, I can visit again.