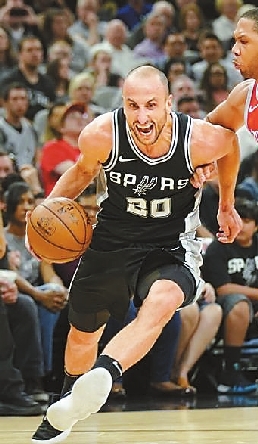 SAN Antonio Spurs' Manu Ginobili announced his decision to retire Monday, the 41-year-old wrapping up what he called a "fabulous journey" in which he helped the Spurs win four NBA championships in 16 seasons with the club.
The smooth left-handed guard from Argentina came to San Antonio in 2002, forming what quickly became a powerful "Big 3" alongside Tim Duncan and Tony Parker. Now, they've all moved on: Duncan retired two years ago, Parker left San Antonio earlier this summer as a free agent to sign with the Charlotte Hornets, and Ginobili has worn Spurs colors for the last time as well.
"An NBA champion and All-Star, Manu Ginobili is also a pioneer who helped globalize the NBA," NBA Commissioner Adam Silver said. "He is one of basketball's greatest ambassadors who believes in the power of sports to change lives. And for 16 years, we were fortunate to watch a legend compete at the highest level. Thank you, Manu, for a career that inspired millions of people around the world."
Ginobili's pro career lasted 23 seasons in all, starting with stints in Italy and Argentina. His drawing power was massive even in his final season, and it was common for him to spend plenty of time before road games posing for photos and signing autographs — often international fans proudly displaying an Argentine flag.
"A role model for all of us that love this wonderful sport," Spurs forward Pau Gasol said.
Duncan, Parker, Ginobili and Kawhi Leonard were the backbone of San Antonio's drive to its most recent NBA championship in 2014, and this will be the first time that Gregg Popovich begins a season as the Spurs' head coach with none of those players on the roster.
Leonard was traded to the Toronto Raptors for DeMar DeRozan earlier this summer, the end of a relationship in San Antonio that had apparently gone too sour to save.
(SD-Agencies)