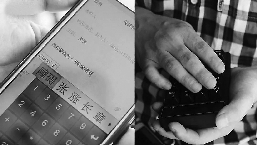 A VISUALLY impaired man in Shenzhen has invented a simplified Chinese character input system and a simplified keyboard for the visually impaired who use computers.
The inventor, Li Dachun, has received patented invention certificates for the system and the design of the keyboard from the State Intellectual Property Office.
The design has been handed over to a factory in Shajing, Bao'an District for production, according to the Shenzhen Economic Daily.
It took Li nearly 10 years and all of his 100,000 yuan (US$14,692) in savings to complete the system and the design.
Li was nearly blinded in a failed surgery 10 years ago. He lost his job and his girlfriend, with whom he had arranged to marry.
"I was blinded in one eye and had very poor vision in the other. It is a big challenge for visually impaired people like me to use the computer because of the complicated keys on the keyboard," Li, who once was a mechanical engineer, was quoted by the newspaper as saying.
After the surgery, Li decided to design a system and a keyboard that could be operated single-handedly. In that way, visually impaired people wouldn't need to search for every key when using computers and mobile phones.
The keyboard has nine buttons representing the strokes that are often used in Chinese characters, as well as several buttons with auxiliary functions.
Li has tried the system with visually impaired people and received a positive response.
(Han Ximin)