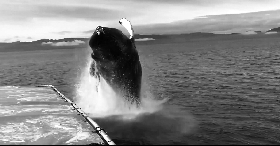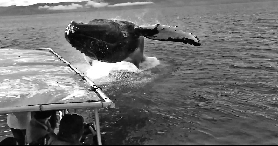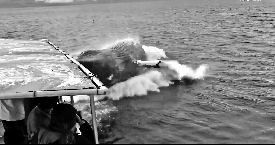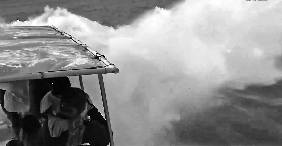 A WHALE decided to give a group of whale watchers in Alaska a show they would never forget by launching out of the water and landing extremely close to their boat, soaking the people on board.
In a video posted on Facebook by Tristan Krause, the ocean off the coast of Pleasant Island, Alaska, appears rather placid. A wisp of fog covers the mountainside in the background and a whale expels air through its blowhole a little way away from the boat.
Then, Krause turns the camera to capture a large humpback whale launching itself out of the water and landing on its back within what appears to be inches of the boat. The whale's splash is enough to soak the boat with water as passengers turn their backs.
Although it appears to be a frightening moment on the video, passengers on the boat can be heard laughing and seen smiling after the encounter. Krause called it an "amazing day" on Facebook and praised Taz Whale Watching, the organization that led the whale watching tour. Newsweek reached out to Krause but did not receive a response in time for publication.
Humpback whales are one of the largest baleen whales and the only species that vocalizes, according to the Alaska Department of Fish and Game (ADFG). A male's song can last up to 20 minutes and be repeated for hours at a time in what researchers believe to be part of mate selection. As far as breaching the water is concerned, the ADFG explained researchers aren't certain whether it even serves a purpose. It could be used to clean pests from a whale's skin or to impress a love interest. Some researchers think they may do it just because it's fun.
Female humpback whales weigh about 35 tons, which is equal to about the size of 10 female elephants, and males are slightly smaller. While many humans think that they've done some serious damage at an all-you-can-eat buffet at least once in their life, it doesn't even come close to a whale, which eats about 1.5 tons of food per day.
Given that whales are wild animals and it's not a zoo, seeing a whale on a tour isn't a guarantee and it's not uncommon for people to spend hours on a boat without ever spotting one of these gentle giants.
(SD-Agencies)