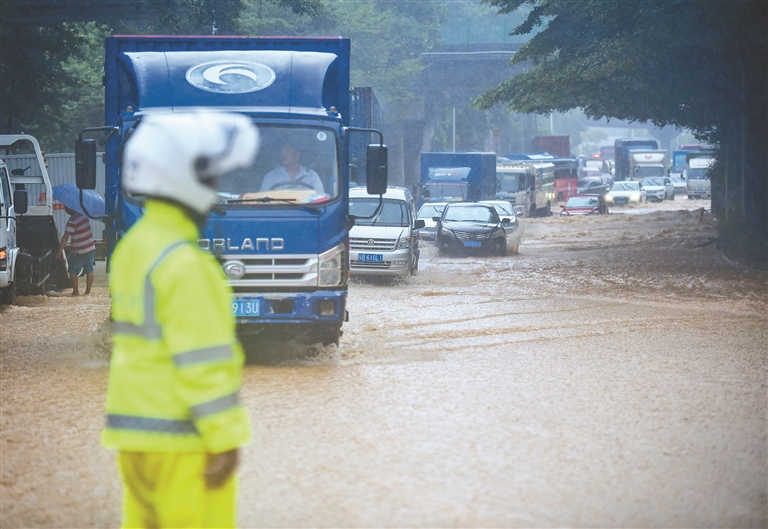 Han Ximin
ximhan@126.com
TORRENTIAL rains lashed Shenzhen over the past few days, bringing the most rainfall the city has seen in August since 1952 when the city began to have meteorological records.
From 8 p.m. Tuesday to 5 p.m. Thursday, the city recorded 296 millimeters of rainfall on average, according to the Shenzhen Meteorological Observatory on Thursday. The heaviest rainfall of 514 millimeters was recorded in Longgang District.
Heavy rains caused waterlogging in 43 low-land areas and landslides in 16 places, seriously paralyzing the city's traffic and resulting in hours of congestion.
The Sanzhoutian Reservoir in Yantian District opened its sluice gates to discharge floods from 10:50 p.m. Wednesday to 7 p.m. Thursday after its water level reached the 312.9-meter alert point at 9:16 p.m. Wednesday. About 850,000 cubic meters of water was discharged in 21 hours.
The city's anti-flood office and traffic police have initiated a high-level response after the observatory issued a red alert for heavy rain early Wednesday afternoon.
More than 10,000 police officers were on duty during the evening rush hours, when almost all roads in the city were seriously congested.
Police statistics showed traffic on some roads, such as Xiufeng Road and Xihuan Road in Longgang District, and sections of Binhe Boulevard and Shennan Boulevard were paralyzed due to 60-70 centimeters of water.
Some roads in Nanshan and Futian districts were flooded with water running as deep as 10 to 50 centimeters. Luzui Boulevard in Nan'ao, Dapeng New Area, was temporarily closed due to a mudslide.
In Buji, Longgang District, 24 people were trapped in a factory due to flooding at around 3 p.m. Wednesday.
The Buji firefighting brigade sent 11 rescuers along with rescue vehicles, boats, life vests, and rope, to the factory.
The water in the factory compound was about 1.5 meters deep. Twenty-three people went up to the second floor to wait for help, while one was trapped in a high place on the first floor.
The firefighting unit cut off the power supply and rescued the victims with ropes and boats.
Citywide firefighters rescued 215 people trapped by floods Wednesday night.
The city's civil affairs bureau opened 500 temporary shelters, and prepared water and raincoats for homeless people.
The city's three social aid centers also arranged for employees to remain on-call for 24 hours to provide help.
The observatory said there will be occasional showers Friday and reminded residents to be aware of dangers and natural disasters such as slides, collapsed walls and rising water levels in rivers.