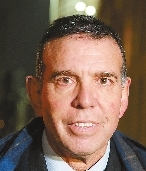 A FORMER top South American soccer official was sentenced Wednesday to nine years in prison for pocketing millions of dollars in cash bribes as part of the sprawling FIFA corruption scandal.
Juan Angel Napout, of Paraguay, received the sentence in federal court in New York City, where he and another soccer official from Brazil were found guilty late last year of racketeering conspiracy and other charges. The trial stemmed from a U.S.-led investigation resulting in charges against dozens of people and entities accused of orchestrating tens of millions of dollars in bribes and kickbacks.
Napout — the former president of Paraguay's soccer federation and of the South American soccer governing body CONMEBOL — appeared stoic throughout a five-hour hearing in a Brooklyn courtroom, even when his wife was allowed to stand and ask the judge for mercy. When it was his turn to speak, he kept it brief.
"I know America is a compassionate country," he told U.S. District Judge Pamela Chen. "I just ask for your compassion."
A request by prosecutors to sentence the already-jailed Napout to 20 years prison was excessive, Chen said. But she also said she had difficulty reconciling his public persona as a do-gooder with his "hidden life" spent enriching himself on the deep-rooted corruption that's plagued a sport he professed to love.
Napout, 60, presented himself in public as a crusader "who would root out corruption, all the while taking bribes," the judge said, adding that his wealthy background made his behavior all the more baffling.
At trial, prosecutors spelled a scheme by soccer officials from across the globe to accept massive bribes from companies in exchange for awarding marketing rights to major soccer tournaments without going through an open bidding process.
(SD-Agencies)