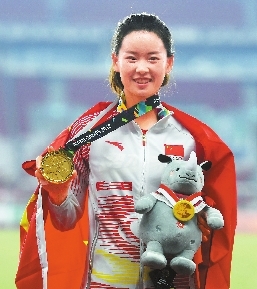 CHINA bagged two golds in athletics at the Asian Games on Wednesday, remaining atop of the medal tally in the sport.
China's Wang Kaihui, 24, came from behind to beat Japanese Toshikazu Yamanishi to win the men's 20km race walk in his Asian Games debut.
The 24-year-old Wang outraced Yamanishi before the finish line, ending the "long march" in 1:22:04. Six seconds later, the Japanese got the silver, and Wang's teammate Jin Xiangjian bagged bronze in 1:25:41.
In the women's event, China's Yang Jiayu and Qieyang Shijie both hit the finish line at 1:29:15, a new Asian Games record. The outcome came down a photo finish between the two and Yang was declared gold medalist. Japanese Kumiko Okada pocketed bronze at 1:34:02.
China's Wang Qingling won silver in the women's heptathlon Wednesday night, while the gold went to Indian Swapna Barman.
The women's 200m final witnessed Nigeria-born Bahraini Edidiong Odiong crowned at 22.96s. Indian Dutee Chand settled for silver with a time of 23.20s and China's No. 1 female sprinter Wei Yongli took bronze in 23.27s.
Meanwhile, Krishan Vikas made history Wednesday when he became the first Indian to win three Asian Games boxing medals.
But the nation's women, devoid of the legendary five-time world champion "Magnificent" Mary Kom, will go home empty-handed for the first time since the sport was introduced in 2010.
The 2010 gold medalist in Guangzhou, Vikas won a bronze four years ago and had to draw on all his experience in Jakarta after suffering a nasty cut over his right eye early in his middleweight (75kg) quarterfinal against China's Erbieke Tanglatihan.
India's last woman standing, flyweight Sarjubala Devi, could not emulate Kom — who won gold in the same 51kg division four years ago — as she lost on unanimous points to China's Chang Yuan.(SD-Xinhua)