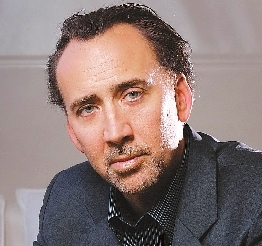 THE Macao International Film Festival, holding its third annual edition in December, has named international film icon Nicolas Cage as a talent ambassador.
Cage joins Hong Kong star Aaron Kwok as the event's celebrity envoys this year. Organizers said the pairing reflects the festival's "ambition to bring together local and international industry professionals, to highlight Macao's East-meets-West culture and to introduce local audiences to the best in international cinema."
Cage follows Hollywood actor Jeremy Renner, who served as a Macao ambassador in 2017. No stranger to Asia, Cage recently made a colorful appearance at the Shanghai International Film Festival in June.
Relentlessly prolific, Cage has appeared in over 75 films in his 37-year screen career. His next release, horror thriller "Mandy," was warmly received by critics at the Cannes Film Festival in May, where it made its world premiere. The film opens in North America on Sept. 14 and will get a special screening in Macao.
During the Macao festival, which runs from Dec. 8 to 14, Cage will walk the red carpet at the opening ceremony and participate in a master class Dec. 9.
"Nicolas Cage is a brilliant, iconic actor and a star for the ages," said Macao Film Festival's artistic director Mike Goodridge. "We are proud and delighted to welcome him to Macao this year as our talent ambassador, and to show his extraordinary new film 'Mandy.'"(SD-Agencies)