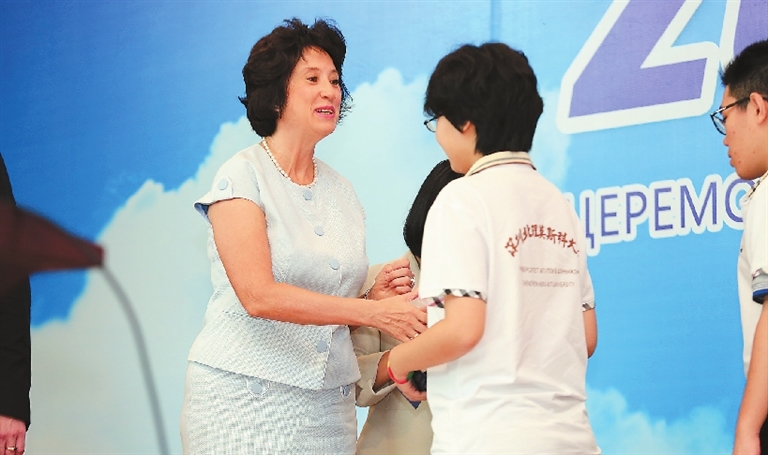 Zhang Qian
zhqcindy@163.com
STUDENTS of all ages have been gearing up for the new school year over the past two weeks.
The Chinese University of Hong Kong, Shenzhen (CUHK(SZ)) welcomed new students at its Longgang District campus yesterday. Nobel Prize laureate, Professor Aaron Ciechanover, and vice chancellor and president of the Chinese University of Hong Kong, Rocky S. Tuan, gave speeches for the students.
Most new students arrived from around China and other countries and regions to register at the university Aug. 29.
An opening ceremony was held at Shenzhen MSU-BIT University in Longgang District, an institute jointly built by Sino-Russian universities and the Shenzhen city government, Saturday, with students, teaching faculty and guests from the Consulate General of Russia in Guangzhou in attendance.
After both presidents of the Chinese and Russian universities gave speeches welcoming students for the new school year, deans of each faculty issued student cards to 130 freshmen who had finished their one-month intensive course on the Russian language in August.
Some new students contributed to the ceremony with Russian-language performances. Before the intensive courses, the freshmen had zero background in the Russian language and their performance earned applause and cheers.
The other universities in Shenzhen have also commenced the new semester over the past two weeks, mostly with classes starting today.
Shenzhen Polytechnic (SZP) said over the weekend that its lowest Gaokao scores among enrolled students topped all vocational colleges in Guangdong Province, marking a new record in the university's history.
The SZP started its admissions process in mid-July and enrolled 8,730 students from across China for the new school year.
Shenzhen University has admitted 6,736 freshmen this year. Students will start to choose their courses for the semester this week, according to the university's official WeChat account.
For primary and secondary schools, the new semester officially kicks off today. All students finished registration at their schools last week.
Each district-level education department gathered for a working meeting to map out their plans for the new semester.
The Longgang District Education Bureau said it had opened five new schools and expanded two schools to provide 15,600 more school slots.
The Nanshan education bureau said Thursday that eight new schools had been opened and four schools had made expansions to provide 13,000 more slots in the district.
Exploring "Future Education" will be a key focus for Longhua schools, said the Longhua education bureau earlier last week, while seeking more innovative ways to provide lunch and care for students during noon breaks is a task for Luohu education bureau.
Most international schools started the new school year in mid-August.