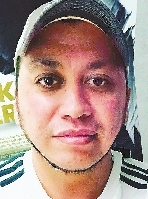 Chen Xiaochun
654789759@qq.com
IT was around 4:30 p.m., and 34-year-old Christian Saldana from Mexico, with his Hong Kong wife, was preparing for the evening at Bésame Mucho, his restaurant in Nanshan.
Saldana came to China eight years ago as an exchange student to study at Beijing International Studies University for six months. "Later our school made an agreement with Chongqing Normal University, so I studied for my master's degree in international business there with another scholarship," he said.
Although not a chef by profession, Saldana loves cooking, so he opened this restaurant around two months ago. "I want to show a gastronomic trip. Mexico has many kinds of flavors. We have dishes from the north, the south and the east of Mexico, which are completely different."
From the name of the restaurant to the food and the tequila drinks, Saldana is trying to convey Mexican culture. "Bésame Mucho is the most famous Mexican song. It has gone through a transformation, from traditional to modern. Many people have also made their own versions of the song, from mariachi to electronic music and rock 'n' roll," said Saldana.
Saldana said Mexican culture, with its 3,000 years of history, is very rich and old. "It's more than sombreros and mariachis."
Customers will not find the expected "Mexican" food, such as burritos or fajitas, at Saldana's restaurant. "We don't have that because that's mixed. It's from Texas, not authentic Mexican food. And our customers are quite surprised by our flavor," he said.
Mayan pork, for example, uses a specific recipe from a small town in Campeche. "The name of the town is a Mayan word. I am from Veracruz, but I used to live in Campeche when I was around 14. There I tried and fell in love with the Mayan cuisine."
According to Saldana, Mayan pork has a important sauce called mole, which is from the south of Mexico. "Any house can have their own mole recipe. It has 28 ingredients. And we do it here home-made. It doesn't matter how long it takes to do it. I want to show it to people," he said.
Saldana is also passionate about music and art, which explains why the modernly decorated restaurant is equipped with a rarely seen second-floor stage right above the open kitchen.
He organizes parties from time to time, inviting musicians and the audience to perform and enjoy music.