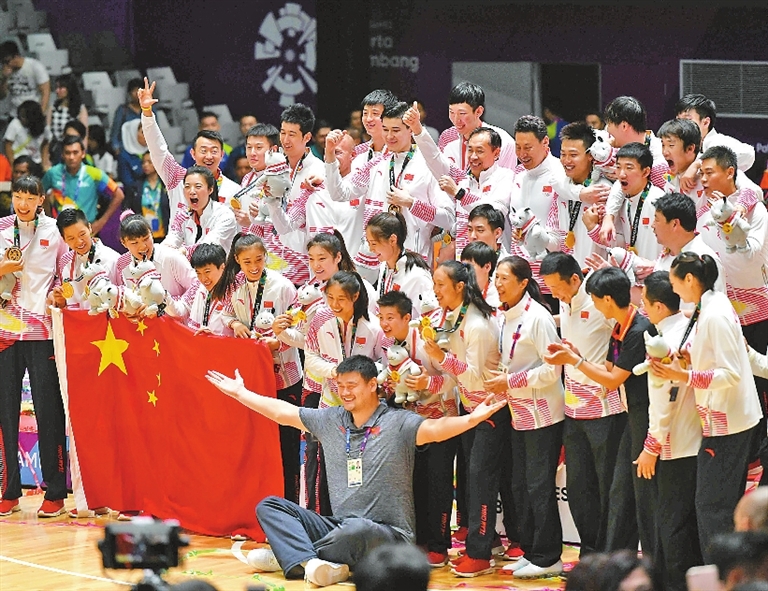 CHINA beat Iran 84-72 for its eighth title in the men's basketball tournament of the Asian Games on Saturday.
With the win, the Chinese basketball teams have swept all four gold medals from both men's and women's 3x3 and 5x5 competitions.
Abudurexiti led the offensive charge with 20 points. Fang Shuo (16 points), Zhao Rui (16) and Zhou Qi (15) also reached double figures in scoring for the Chinese squad, which shot 52.7 percent from the field.
Hamed Haddadi scored a game-high 27 points for Iran. Mohammad Samad Nikkhah Bahrami added 13 points, eight assists and five rebounds, while Behnam Yakhchali Dehkordi tallied 12 points and five boards for the runners-up.
It's the eighth title for China in men's basketball across the past 11 editions of the Asian Games, including three of the past four since 2006.
"It's a tough battle, we tried everything to drag down Ehdadi, and we made it," said Zhou Qi.
Four years ago, China lost to Iran and failed to make it into the semis at the Incheon Asian Games.
"Nobody thought we were going to win, this time we see ourselves as challengers for the title," Zhou added.
Team coach Li Nan said: "This is a young team, this precious Asian Games title is helping us to build up our confidence. We will learn from our predecessors, to be more aggressive on the court."
China continued to run away from the rest of the field in the medal count Saturday.
China had piled up 289 total medals by Saturday night, including 132 gold medals. That's a sizable advantage over second-place Japan (204 total medals and 73 gold medals), which became the second country to reach the 200 mark.
Canoe/kayak also provided joy for Chinese athletes Li Yue (silver in women's kayak 200 meters), Sun Mengya (gold in women's canoe single 200 meters), as well as Xing Song and Li Qiang (gold in men's canoe double 200 meters).
Meanwhile, Shi Tingmao and Wang Han gave China an impressive one-two finish in the women's 3-meter springboard. China also added a gold in the women's volleyball tournament with a clean sweep of Thailand in the final.
It was also the eighth gold medal for Chinese women's volleyball at the Asian Games.
South Korea took home the gold medal in baseball by shutting out Japan, 3-0, in the final. Chinese Taipei earned bronze with a 10-0 victory over China.
South Korea also beat Japan for gold in the men's soccer final, 2-1. All three goals came in extra time, with Hwang Hee-chan's goal in the 101st minute proving to be the difference. United Arab Emirates snagged bronze with a 1-1 (4-3) victory over Vietnam on penalties.
Japan beat China 7-5 in the women's rugby sevens gold-medal match.
(SD-Xinhua)