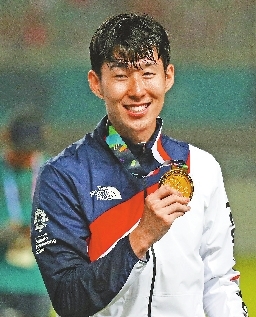 SON HEUNG-MIN will rejoin his Tottenham Hotspur teammates this week, after his emotional rollercoaster ride at the Asian Games in Jakarta.
The decision by Spurs to release Son for a far-flung, under-23 tournament already looks like a shrewd piece of business after he led South Korea to a gold medal Saturday that spares him a career-threatening stint of military service.
One of three permitted over-age players in the South Korean squad, the 26-year-old forward recently signed a new five-year deal with the London club and was quick to thank Spurs manager Mauricio Pochettino after a 2-1 extra-time win over Japan on Saturday.
"I'm so grateful to Tottenham because they let me come here," Son said, clutching his gold medal and grinning from ear to ear.
"Normally that's not an easy decision. I would have felt very sorry if I didn't win the gold medal," he added, after escaping almost two years of compulsory military service.
Nearly every able-bodied South Korean male is required to perform 21 months of military service before the age of 28, although the government rewards Asian Games gold medals and Olympic medals of any color with an exemption.
(SD-Agencies)