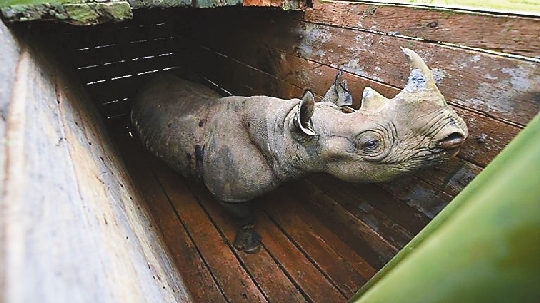 ELEVEN of Kenya's precious black rhinos were transferred to a new home in what was supposed to be a routine operation in a country fabled for its conservation. However, they ended up dead.
The primary cause of death, an official report found, was due to toxic levels of salt in the water of their sanctuary.
But an investigation has found that the problem was well known and deep concerns were ignored. Experts sounded repeated warnings about the site's unsuitability. Yet the relocation project was pushed through — and officials are now blaming each other for the fiasco.
The translocation was launched with great fanfare in late June by Kenya's tourism and wildlife minister, Najib Balala, and the World Wildlife Fund (WWF), which donated a million dollars for the project.
Dubbed #TheBigMove, the operation would help ensure the survival of a species brutally depleted by poaching.
The International Union for Conservation of Nature (IUCN) describes the black rhinoceros (Diceros bicornis) as critically endangered and one step away from being extinct in the wild.
Rhinos from parks in Nairobi and Nakuru were sedated, loaded and transported to a new sanctuary in Tsavo East, a project that the Kenya Wildlife Service (KWS) and WWF had spent six years preparing.
There, the rhino drank bore hole water so salty that it corroded a metal grill around the pump valve, and no other wildlife would come near it, said Dr Benson Kibore, head of Kenya's Union of Veterinary Practitioners. The saline water made the animals thirstier, pushing them to drink more, drawing water out of their body tissue, thickening and slowing their blood. They were "desiccated," said Kibore.
In October 2017, the KWS board gave conditional approval for the translocation pending improved conditions at the site.
The board's mandate expired in April 2018. By that time, the green light for the translocation had still not been given. Even so, the operation went ahead three months later — in the absence of a new board.  (SD-Agencies)