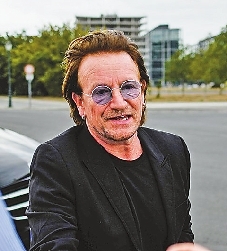 U2 on Saturday canceled the second of two shows in Berlin, the kick-off city for a planned European tour, after lead singer Bono developed vocal problems mid-concert Friday night, band members said in a statement.
"We're so sorry for tonight's cancellation," band members Adam Clayton, Larry Mullen Jr. and The Edge, said in the statement. "Bono was in great form and great voice prior to the show and we were all looking forward to the second night in Berlin, but after a few songs, he suffered a complete loss of voice."
A fan's video of Friday's performance included a snippet of Bono complaining that the Mercedes-Benz Arena felt like "one giant cigar," and smoke was visible under the stage lights. The arena prohibits smoking in "publicly accessible areas" but has designated smoking areas, according to the venue's website.
The band's performance was ultimately cut short Friday.
"I've lost my (singing) voice," the 58-year-old says on the fan video. "I don't know what to do. 'Cause I was singing like a bird about 10 minutes ago."
The band began a rendition of "Beautiful Day," but Bono's vocals clearly seemed strained. The arena later tweeted, "Unfortunately, the @U2 show can't go on."
The venue said a "catch-up date" was being planned and that it would honor tickets of those who experienced only a partial performance Friday.
The "Experience + Innocence" European tour started Friday and was scheduled to culminate with four nights in Dublin in November. (SD-Agencies)