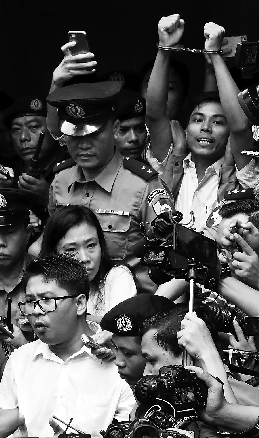 A MYANMAR judge yesterday found two Reuters journalists guilty of breaching a law on state secrets and jailed them for seven years, in a landmark case seen as a test of progress towards democracy in the Southeast Asian country.
Yangon northern district judge Ye Lwin said Wa Lone, 32, and Kyaw Soe Oo, 28, breached the colonial-era Official Secrets Act when they collected and obtained confidential documents.
"The defendants ... have breached Official Secrets Act section 3.1.c, and are sentenced to seven years," the judge said, adding that the time served since they were detained on Dec. 12 would be taken into account. The defense can appeal the decision to the regional court and then the supreme court.
The two reporters had pleaded not guilty and told the court police planted documents on them in the course of their work in reporting on Myanmar's violence-plagued Rakhine State.
Press freedom advocates, the United Nations, the European Union and countries including the United States, Canada and Australia had called for the journalists' acquittal.
The reporters had told the court two police officials handed them papers at a restaurant in the city of Yangon moments before other officers arrested them.
Judge Ye Lwin read out a summary of witness testimony for about an hour before delivering his verdict.
He said it had been found that "confidential documents" found on the two would have been useful "to enemies of the state and terrorist organizations." Documents in their possession and on their phones were "not public information."
Kyaw Soe Oo also said the reporters had committed no crime and that they would maintain their fight for press freedom.
The verdict comes amid mounting pressure on the government of Nobel laureate Aung San Suu Kyi over a security crackdown sparked by attacks by Rohingya Muslim insurgents on security forces in August 2017.
U.S. ambassador Scot Marciel, who attended the hearing, said he was sad for the two reporters and for Myanmar. The reporters were arrested Dec. 12 while investigating the killing of 10 Rohingya men and boys and other abuses involving soldiers and police in Inn Din, a village in Rakhine State. (SD-Agencies)