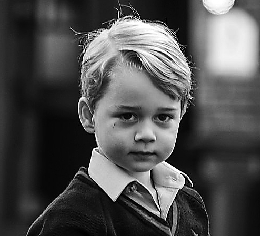 IT'S time for Prince George to wave goodbye to the summer holidays and go back to school for a new year.
The sweet royal, 5, is going into Year One at his £6,110 (US$7,900)-a-term London private school and with that will come a host of new lessons and activities.
He may live in a royal palace, but he may still do homework like any other pupil.
This year, he will be set 10 minutes of reading each night — although homework isn't strictly compulsory until he gets a bit older.
There will still be lots of time for Prince George to play with his siblings, Princess Charlotte and Prince Louis.
As he enters Year One, ballet lessons will be compulsory for little Prince George.
He will have a 35-minute lesson each week with a specialist teacher, who will teach dances accompanied by a live pianist.
They will also have swimming lessons and have plenty of time to develop skills in throwing, catching and running.
In his reception class last year, Prince George will have been taught basic handwriting skills, but will progress to joined-up script this year.
He will also learn a whole host of new things, including days of the week, months, numbers to 20, colors, his name and addresses, and the school's address — if he doesn't know them already.
Not only will this be in English, but also in French, and he will be taught greetings and songs in his 35-minute language class each week.
Prince George will have the chance to sing to his heart's content in the school choir. And thankfully there is no audition to get it, and it runs on a "come and sing" basic, so everyone is welcome.
If he has an interest in music, he can also pick up a musical instrument to learn, or if drama is more his thing, he will have a 40-minute class each week to let his dramatic side out.
Now he's moving up a year, the royal's curriculum will become a lot more varied and include new classes such as science, history, geography, maths, English and PE. He will also spend time doing religious studies, learning not only about Christianity, but all other major world religions.
And to get the kids up to speed when it comes to technology, he will also have a 40-minute lesson of computing each week in the school's swanky IT suite.
(SD-Agencies)