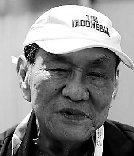 INDONESIA'S richest man Michael Bambang Hartono has clinched bronze in the super mixed category along with five other Indonesian players in bridge at the 2018 Asian Games. The group was beaten by a Chinese team.
The presence of Bambang in the Games was all over the Internet as soon as it was revealed some days ago that he would be competing. Bambang, the owner of multinational tobacco company Djarum, is the oldest member of Team Indonesia. Bambang also owns more than 25 percent of publicly traded Bank Central Asia (BCA).
Bambang, who tops the Forbes' Indonesia rich list with a net worth of around US$11.2 billion, revealed that he started to play bridge when he was 6 years old after seeing his uncle playing the card game.
Years later, Bambang decided to take the sport seriously. He believes the sport has no age barrier and it also helps him in running his businesses.
"Bridge is a game of decision-making, just like business," said Bambang. "You gather information, analyze it and make a decision."
Powerful people in the world of business, including Microsoft founder Bill Gates and billionaire Warren Buffet, reportedly play bridge.(SD-Agencies)