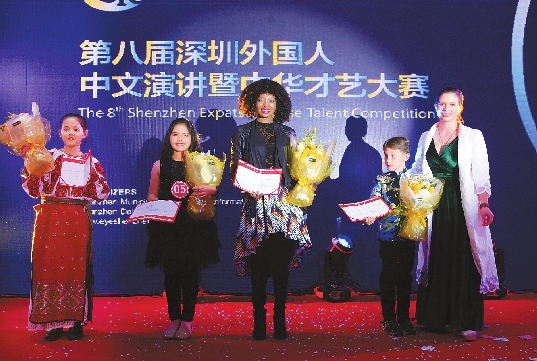 Zhang Qian
zhqcindy@163.com
REGISTRATION for the Ninth Shenzhen Expats Chinese Talent Competition is now open for expats who can speak Chinese and demonstrate a Chinese talent.
Applicants must be expats who live in Shenzhen or other parts of the Pearl River Delta region. Additionally, applicants must be at least 6 years old and Chinese must be their second language.
This annual competition specially designed for expats consists of two rounds: the preliminary and the on-site final contest.
Applicants should send their completed registration forms and videos to eyeshenzhen2017@126.com or mail them to the Shenzhen Daily office before Sept. 22.
The content of the video should include two parts. The first part of the video is a self-introduction and a short Chinese speech, within three minutes, on the topic of "The Future Shenzhen in My Eyes."
The registration form can be downloaded from http://www.eyeshenzhen.com. Applicants must fill out the registration form with their personal information, including name, nationality, date of birth, passport number, residential address in China, contact number, email address and WeChat account. Also, a profile photo taken within six months should be included with the registration form.
The second section of the video is a talent performance. Talents of all kinds, except for pantomime and magic acts, are welcomed, but must show the contestants' understanding of Chinese culture.
Upon collecting all the videos, the organizing committee will upload them to www.eyeshenzhen.com, and a panel of professional judges will select the top 10 candidates for the final competition.
There will be three sections in the on-site final competition scheduled for October. Finalists will again deliver their polished Chinese speeches in front of the judges and audience, and then perform their Chinese talent. Prizes will be awarded to the winners.