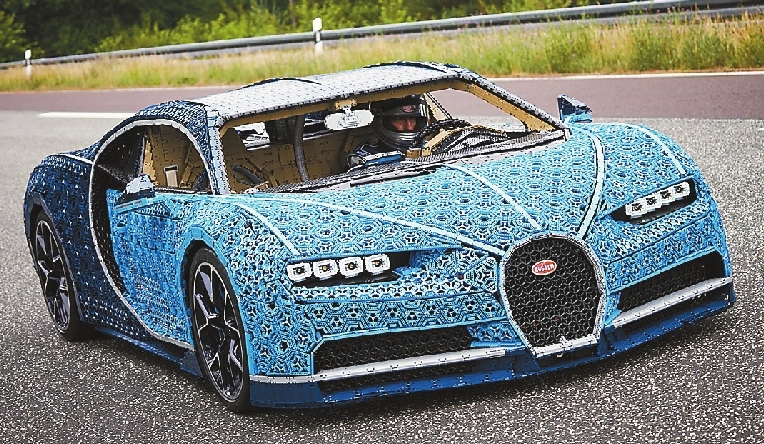 LEGO has built a working model of the world's fastest car out of more than 1 million bricks and 2,300 toy motors to re-create the Bugatti Chiron.
Apart from the steel frame, the life-size replica* is made entirely out of interlocking LEGO or LEGO Technic pieces. This includes working head and taillights, doors that open and close, a lavishly* detailed interior with a steering wheel, dashboard*, gear shifter*, seats, brake pedal and mirrors.
The stunning blue design "pushed the boundaries of what LEGO builders imagined was possible and it can even be built at home," the company said.
It costs US$350, weighs 1,500 kg and can accelerate to a top speed of 19 kph with 5.3 horsepower, whereas the real version can hit 420 kph, reach 96 kph in 5.2 seconds, has 1,479 horsepower and costs around US$3 million.
To get the colors right, LEGO even had to manufacture 56 new parts for this build, which took over 13,400 man-hours to finish.
LEGO started making the model in September last year after months of planning, and only finished it a few months ago.
Two passengers can sit in the full functioning car, which has no glue used in its painstaking production.
The Danish toy company based in Billund said the model is powered exclusively by using motors from the LEGO Power Function platform and contains 2,304 motors and 2,032 LEGO Technic gear wheels.
Lena Dixen, senior vice president of product and marketing at the LEGO Group, said: "Our technic designers and the engineers from the Kladno factory in the Czech Republic, the place which also builds the impressive models for LEGO Stores and LEGOLAND parks, have done an amazing job both at recreating the Chiron's iconic shapes and making it possible to drive this model."
Previously, LEGO made a 5.3-million-piece X-wing fighter from the "Star Wars" film franchise.(SD-Agencies)