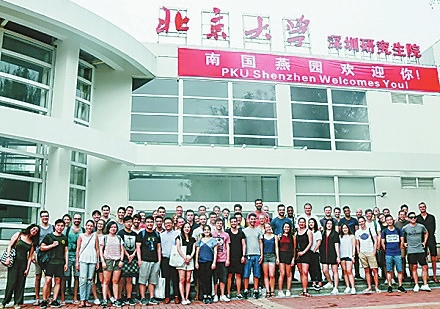 Claudia Fauzi
nathanf@pkusz.edu.cn
Peking University Shenzhen Graduate School (PKUSZ) welcomed 113 new international students from nearly 40 countries at the beginning of the 2018/2019 academic year. Orientation week, was full of activities and training sessions to provide an opportunity for new students to meet their future PKUSZ classmates and get accustomed to their new university and China.
Activities for new international students kicked off with the arrival of the largest class of international student's in STL's history on August 12 with nearly 100 new PHBS international students making the big move to Shenzhen within the following week. As is now tradition, the first night always includes a shopping spree to IKEA intended to facilitate making their new dorm rooms feel like home right away.
No matter how excited the new students are on their first day in Shenzhen, arrival day can be difficult and filled with uncertainties. However, many international students kept positive spirits and are now ready to make the most of their studies in China.
Oren Giladi, a PHBS exchange student from Israel, is like many other exchange students - he has big hopes even if he is staying only a short time. Giladi explained his motivation for coming to China: "I want to study in China because I want to see the opportunities for my career with China related to the relations between Israel and China, especially in the sector of finance and innovation. I think that PHBS will be a good open door to the Chinese market and the Chinese culture."
Gilandi also said, "My first impression of Shenzhen is that it is a very authentic, especially in terms of language, and few people speak English. This is a major challenge not only for me but I think for every foreigner. I think it is positive, not negative, because when you come to China you have to adapt yourself to the culture. I like it because this forces you to study Chinese and this forces you to get inside the Chinese culture and to adapt yourself and open your mind."
The biggest adjustment students have to make right away is getting used to the weather in Shenzhen. "I hate the weather in terms of humidity," said Giladi. "It is very hot but I think we can get used to it."
However, Carolina Santos Lages, a new full-time student from Brazil, said she doesn't see heat as a problem. "My first impression of Shenzhen is that it has a similarity with Brazil. I like the weather - although people say it is hot - and the other things. I like the food and the people are really gentle to me."
She also mentioned her motivations for coming to study at PKUSZ: "I want to study in China because the country and economy in China is really good, increasing and other countries are investing in it."
Getting off campus and familiarizing themselves with the layout of the surrounding city is one of the most important things newly arrived students should do to accomplishing their big goals.
Kirsten Lindhof, a PHBS exchange student from Germany, said, "I want to study in China because the economy is pretty different from Germany, and I wanted to go somewhere where that is not that similar to Germany. Actually, I chose Shenzhen on purpose because it is a booming city and I thought it will be interesting to see. In PHBS I think I might take a Chinese language class."
Orientation activities are an institutional activity through which Peking University fulfils its responsibility as the host institution to recognize and understand the campus environment as an academic environment and foster a sense of relationship between resident students and staff.