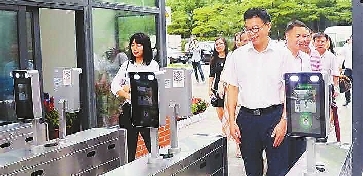 An aviation museum, temperature-controlled swimming pools, 3-D projection rooms, facial recognition-enabled entryways, and moveable basketball hoops — various hi-tech facilities of the highest standards and smartest designs have been implemented across 42 new public schools in Shenzhen through renovations and campus expansions. The upgrades have also resulted in an increase in the city's student enrollment capacity to 64,205 seats.
The "Future School" concept, which utilizes advanced educational facilities and learning resources so students can excel, has been widely applied in new and newly renovated schools.
Following this concept, Liwan Primary School is building a cultural campus, ecological campus, technology campus and smart campus that targets to help all students grow. All the classrooms are equipped with advanced multimedia teaching systems. Moreover, high-end laboratories, audio-visual classrooms, physical classrooms, technology classrooms, maker spaces, future classrooms, information classrooms, and Chinese studies centers are all readily available.
The school also features a modern two-floor library as well as a fully functional playground, indoor gymnasium and a multi-purpose auditorium that can accommodate nearly 400 people.
Facial recognition technology was installed at the school gates of Shenzhen Nanshan Foreign Language School, granting cardless entry to those who are verified to enter. The school is also equipped with a course-selecting management system, 3-D projection classroom and 3-D laboratory. Students live in modern dormitories with two bathrooms, a balcony and a laundry room.
Nanwai Kehua School is the first three-star green building school in Shenzhen. It has the only temperature-controlled swimming pool among all public schools in Shenzhen.
(Nan Nan)