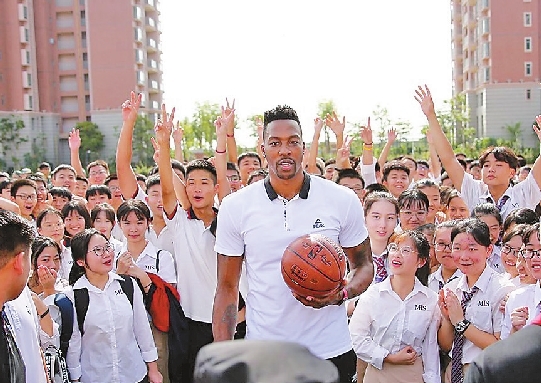 EIGHT-TIME NBA All-Star Dwight Howard surprised pupils at the Mission Hills School in Haikou, Hainan Province, on Monday when he turned up at the opening ceremony for the new semester.
After greeting the students, the 32-year-old Washington Wizards center hosted a basketball clinic in the school grounds, located within the Mission Hills Haikou resort on the Chinese tropical island.
Howard — who stands 2.11 meters tall — entered the NBA draft in 2004 and was first selected by the Orlando Magic. An eight-time All-Star, eight-time All-NBA Team honoree, five-time All-Defensive member and three-time Defensive Player of the Year, the American has been ranked consistently as one of the best in the league in rebounds, blocks, and field goal percentage and has set numerous franchise and league records.
In 2009, Howard led the Orlando Magic to the NBA Finals. The Peak Sports ambassador then enjoyed spells with the Los Angeles Lakers, the Houston Rockets, the Atlanta Hawks and the Charlotte Hornets before joining the Washington Wizards in July 2018.
In 2017, another NBA legend, Kobe Bryant was in Haikou to witness the announcement of a multi-year partnership between Mission Hills Group and NBA China to design, develop and operate China's first NBA Basketball School as well as an NBA interactive experience and store in Hainan Province.
The NBA Basketball School at Mission Hills Haikou will be open to male and female players, from junior level to professionals and will be completed in early 2020.
The school will include six indoor courts and other state-of-the-art facilities. NBA China will operate and staff the facility with NBA-trained coaches and provide the basketball development curriculum. NBA players and legends will visit the school to provide additional instruction and help foster player development.
Opening later this year, the NBA interactive experience and store will be located at Mission Hills Centreville, a 240,000-square-meter shopping and entertainment complex located within the 22-square-kilometer Mission Hills Haikou resort. The NBA interactive experience and store will be a multi-media exhibition and retail space celebrating the league's history and providing fans with a broad assortment of merchandise for men, women and kids, including jerseys, fan apparel, basketballs and accessories.(SD-Agencies)