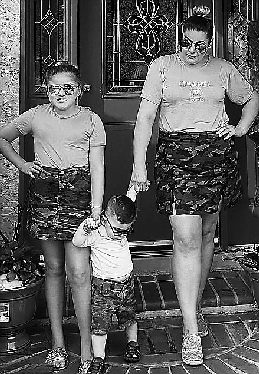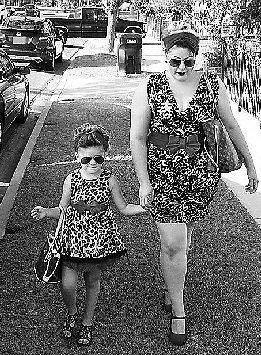 A MAKEUP artist has told how people do a double take when they see her out with her 10-year-old daughter, as they are dressed identically.
Yesenia Medina, 39, from La Puente, California, spends thousands of dollars dressing her little girl Monique, known as Kiki, in outfits that match her own.
When Medina, who delights her followers by filling her Instagram with snaps of her posing with the pint-sized fashionista, cannot buy twin outfits, she makes them herself.
The mother-of-two, who also gets her 1-year-old son Misael involved, scours the shops for identical children's versions of her ensembles for Kiki, with her husband acting as their official photographer.
Speaking about her expensive habit, she said, "I don't even know how much I've spent over the years.
"It must be in the thousands, but I've made about 20 of Kiki's outfits myself, which has made things cheaper."
Sometimes Misael, 1, joins in on the dressing-up, with Medina explaining that they will never wear the same outfit twice.
"We all have quite big wardrobes," she admitted. "If we've already worn an outfit and posted a picture on Instagram, we probably won't wear it much again.
"We clean out our closets every six months or so and donate old clothes to charity, or give them to the children's cousins. Everyone fights over Kiki's clothes as they're so nice."
Remembering her long-standing interest in fashion and beauty, Medina was delighted when she discovered she was expecting a little girl with her husband, who she does not wish to name.
When Kiki was around 1, the proud mom began to color co-ordinate their outfits, but soon progressed to matching their clothes — a trend known as "twinning."
"We do a lot of shopping online, or in regular high street stores like Target and Forever 21. I've been very lucky to be able to find good matches," said Medina.
"If I can't find it, I'll make it. I get material from a local craft store then get to work," she added. "I'm a completely self-taught dressmaker, and now it only takes about a day to make an outfit."
Speaking about how she picks their ensembles, she added, "I would never put Kiki in anything age inappropriate, but luckily we have similar styles anyway. We're both very girly, although she is edgier."
Recently hired as a fit model — a person who test drives clothes behind the scenes for designers — Medina reveals daughter Monique shares her love of fashion and delights in their matching wardrobes.
Medina continued, "She'll say to me, Mom, what are we wearing today?' As long as she's happy doing this, I'll carry on.
"I try to match with my son, too — although more with colors than exact pieces."
And now, with her husband acting as their official photographer, the twinning has become a family affair, with him regularly snapping their pictures for her Instagram.
Medina, who also runs a craft and party planning business, laughed, "It's not easy to take the perfect shot with two little ones.
"It can sometimes take around 20 minutes to get a decent picture. Someone will always be fussing, or not looking the right way."
Thankfully, Medina has never received any negative comments and insists that twinning with her daughter is a fun way of creating happy memories, allowing them to bond over their shared love of fashion.
(SD-Agencies)